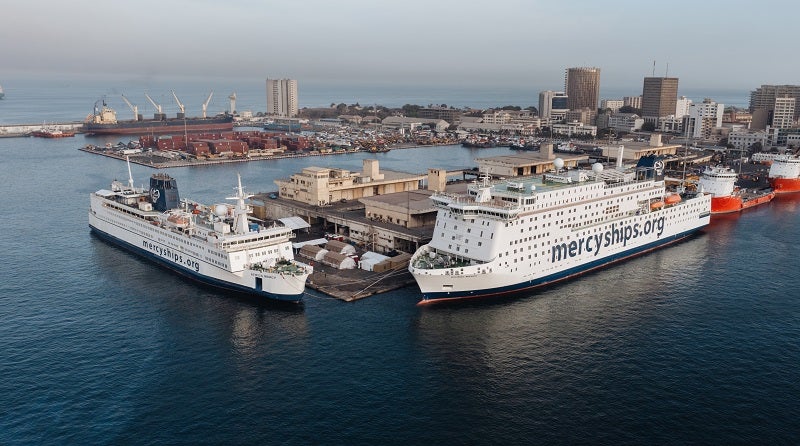 Senegal President Macky Sall has inaugurated a hospital ship to speed up the availability of surgical, obstetric and anaesthetic care for the countries of Africa.
This is claimed to be the world's largest purpose-built hospital ship.
The ship is called Global Mercy.
Mercy Ships and its African partners joined together in a strategic effort to enhance access to safer surgery across the continent.
Representatives from Cameroon, the Union of Comoros, Congo Brazzaville, The Gambia, Guinea-Bissau, also gathered on board the ship to give approval to a strategic road map to enhance surgical care for African nations by the end of this decade.
It is estimated that 93% of sub-Saharan Africa still do not have access to safe surgery.
Senegal President Macky Sall said: "We, heads of states present this day, have adopted the Dakar Declaration, which is the result of the meticulous work of our ministers and experts on access to surgical, obstetric and anaesthetic care. As President in Office for the African Union, I commit to bring the Dakar Declaration to the summit of heads of state and African governments."
Mercy Ships chief executive officer Gert van de Weerdhof said: "At the end of a difficult week for Senegal and for all of us after the tragic events that happened; today, I want to greet you all on this special day here in Dakar, Senegal. The inauguration of the Global Mercy is only one part of the reason we celebrate today. Big decisions have been made here in Dakar."
Following foundational discussions from an International Symposium in Senegal held between 4 and 6 May, the Dakar Declaration was signed. Experts and ministers of health from 29 African nations met to declare their commitment toward providing access to surgical, obstetric, and anaesthetic care.
Global Mercy is 174m long, 28.6m wide, and can accommodate 200 patients, has six operating rooms, one laboratory, general outpatient clinics, a dental clinic, and an eye clinic.
Covering a total area of 7,000m2, the hospital decks feature the newest training facilities.
Global Mercy enables housing up to 950 people when docked, including crew members and volunteers worldwide when in full service.