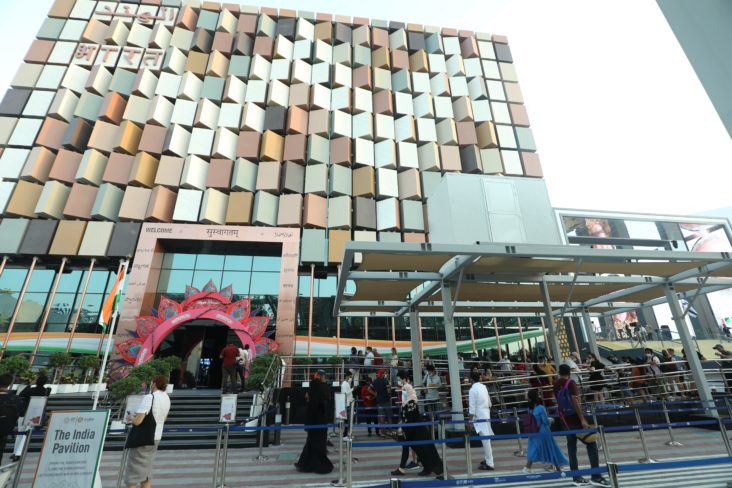 The India Pavilion at Expo 2020 Dubai has become one of the most visited pavilions at Expo 2020 Dubai. In just 43 days on November 12, the number of visitors exceeded 300,000. The pavilion was inaugurated on October 1st by the Ministers of Commerce and Industry and Consumer Affairs, Food and Public Distribution and Textiles, Shri Piyush Goyal.
"Visitors' great interest in the India Pavilion shows confidence in India's resilience and opportunities, in addition to the country's vibrant culture, which was fully demonstrated in the different state weeks held in the pavilion. Delegations from 31 countries After visiting the exhibition hall, 175 well-known visitors also added luster to the visit. So far, 199 G2B and B2B conferences and Startup pitching conferences have been held in the exhibition hall. It is very satisfying that 15 FIIs have promised to provide for start-ups funds," Dr. Aman Puri, Consul General of India in Dubai and Deputy Director-General of India, said during the 2020 World Expo.
Gujarat, Karnataka and Ladakh organized a number of business meetings and conferences related to investment opportunities in October. In addition, the Indian Pavilion also witnessed a series of cultural activities during the festival, especially related to the celebrations of Dusshera, Navratri and Diwali.
In November, the India Pavilion will host a series of commercial and cultural events from Telangana, Rajasthan and Maharashtra on the global platform. These state-specific weeks hosted many fascinating events that showcased their culture, traditions and great business opportunities. Although the renewable energy, space and housing, and urban affairs departments have seen policy makers and business leaders participating in the pavilion's interactive meetings, oil and gas and textiles are the two sectors that demonstrated India's capabilities this month.
Bilateral meetings including the India-Gulf Cooperation Council business meeting held this week are also one of the main attractions of the India Pavilion.
In December, there will be participation from Uttar Pradesh, Madhya Pradesh, Kerala and other states, as well as key sectors such as electronics and information technology, energy conservation, environment and sustainable development, higher education and skills, tribal affairs, spices and tourism.
"Rajasthan Week is currently being held in the pavilion, followed by Maharashtra Week. With cultural diversity and vitality, India's innovation capabilities have also been fully demonstrated, especially for start-ups— —Start-ups in Karnataka and Telangana have received a lot of attention from investors. It combines cultural and business opportunities and attracts visitors to the Indian Pavilion." Dr. Puri said.
Several dignitaries, celebrities, businessmen and bankers, including the Minister of Foreign Affairs (MoS) and Minister of State for Parliamentary Affairs V Muraleedharan; Mr. Rishad Premji, Chairman of Wipro Ltd.; Boo Dinesh Kumar Khara, Chairman of the State Bank of India; Bollywood actress Deepika Padukone; Janhvi Kapoor and her sister Khushi Kapoor; Kanika Kapoor, Shaan, Jaaved Jaaferi and Manish Paul also recently visited the India Pavilion.
According to current trends, it is expected that by the end of EXPO2020 in 2020 on March 31, 2022, the India Pavilion will definitely become one of the pavilions with the highest passenger flow.
arrive To learn more about the India Pavilion at Expo 2020 Dubai, please visit:
Website – https://www.indiaexpo2020.com/
Facebook – https://www.facebook.com/indiaatexpo2020/
Instagram – https://www.instagram.com/indiaatexpo2020/
Twitter – https://twitter.com/IndiaExpo2020?s=09
LinkedIn – https://www.linkedin.com/company/india-expo-2020/?viewAsMember=true
YouTube – https://www.youtube.com/channel/UC6uOcYsc4g_JWMfS_Dz4Fhg/featured
Koo – https://www.kooapp.com/profile/IndiaExpo2020
To learn more about Expo2020 Dubai, please visit- https://www.expo2020dubai.com/en