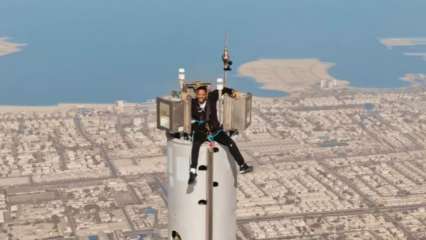 One of the world's highest grossing actors, Oscar nominee, television producer and Grammy Award winner, "Men In Black" star Will Smith needs no introduction. Will, who started his career at 17, is one of the most sought-after celebrities across the world today and has crossed more milestones in his decades-long career than most artists see in one. life.
Another milestone that Will recently took was to climb to the top of the tallest building in the world, the Burj Khalifa in Dubai. Apparently, this is the highest level a person can achieve on any artificial structure.
As part of a new YouTube series documenting his weight loss journey, Will uses the 2,909 steps of the tower to perform a cardio workout and ends by climbing to the top of the iconic building's spire. The actor was accompanied by personal trainer Aaron Ferguson, and the video showed him climbing the 160 floors in 51 minutes of his YouTube series "Best Shape of My Life".
In the video on his YouTube channel, Will is all sweaty and exhausted as he gathers the strength to accomplish his mission. And when he finally reaches the 160th floor, he realizes there is more he can accomplish. And so, strapped into a harness and wearing a helmet for protection, Will climbs a ladder to enter the spire of the building, the "highest point a human can be in an artificial structure on Earth."
Watch the video here:
[embedded content]
Will's docuseries focus on the actor's fitness and health journey. The first two episodes of "Best Shape of My Life" were released on November 8.
Will made headlines in May after sharing an unflattering shirtless pic on Instagram. In the caption he wrote: "I'm going to be really serious – I'm in the worst shape of my life."
Later, Will rose to the challenge of losing the weight he gained during the pandemic and his journey so far has been commendable.
.