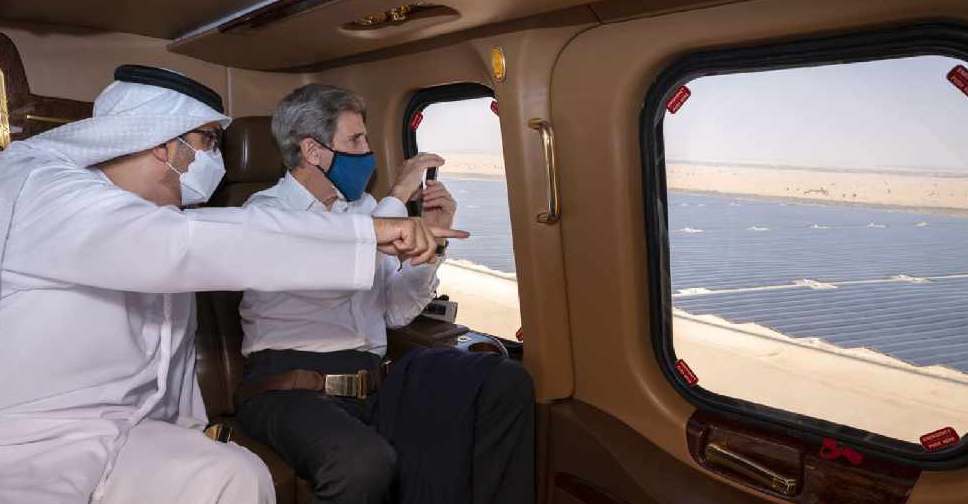 WAM
The US Special Presidential Envoy for Climate, John Kerry, has been visiting several of the UAE's clean energy projects before today's first Regional Climate Dialogue in Abu Dhabi.
On Saturday, Kerry toured the world's largest single-site solar site, Noor Abu Dhabi, with Dr. Sultan Ahmed Al Jaber, the UAE's Special Envoy for Climate Change and Minister of Industry and Advanced Technology.
He also visited Mohamed bin Zayed University of Artificial Intelligence and Jubail Mangrove Park.
The day's activities included a tour of other key solar installations, including Shams 1, one of the largest concentrated solar power plants in the world, where US Special Envoy for Climate Kerry was briefed on the upcoming 2 GW Al Dhafra Solar Project, which recently set a new record for the lowest solar power tariff at 1.35 cents/kWh.
The climate talks in Abu Dhabi are being jointly hosted by the UAE and the US.
Kerry said the discussions will focus on raising ambitions ahead of November's Conference of the Parties meeting (COP26) in the Scottish city of Glasgow.
The Dialogue will bring together senior climate action representatives from the MENA region, as well as the US and UK.
Dr Al Jaber welcomed Kerry's participation and said "Over the past 15 years, the UAE has made bold commitments on climate change, domestically and internationally, and has demonstrated its ability to act on them. Looking ahead, we look forward to further building on this progress to turn political commitments into new practical solutions with long term economic benefits for the UAE, the MENA region and the world."
For his part, Kerry said: "I'm delighted to have seen the largest solar field in the world's largest single-site solar project, Noor Abu Dhabi. I also listened to Dr. AL Jaber about the UAE's plan to lead the world in terms of technology as well as in mitigation of emissions. It's remarkable to find UAE trying to lead many other nations in the search of new technology to address the global climate challenge and in transitioning to the new economy while facing this crisis.
"We face an enormous global challenge and it's growing in intensity. Tomorrow we will meet with a number of leaders from the region to share thoughts about what can be best done in order to raise our ambitions in Glasgow which is the most important conference after Paris Agreement."
The UAE was the first country in the region to sign the Paris Agreement and the first to submit an economy-wide Nationally Determined Contribution (NDC) to reduce emissions compared to business-as-usual in 2030.
The nation is also playing its part to prepare for COP26, believing that the need for decisive climate action has grown even greater in a post-COVID-19 world.
[embedded content]