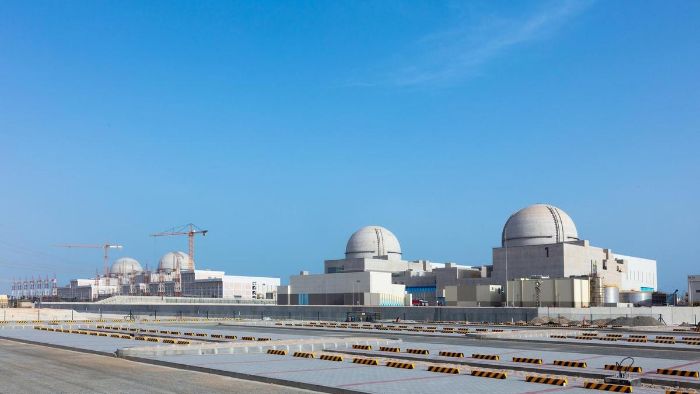 4 Jul 2021
Emirates Nuclear Energy Corporation (Enec) has signed a memorandum of understanding (MoU) with France's EDF for cooperation on research and development (R&D) in the nuclear energy sector and the potential for collaboration in the production of green hydrogen from nuclear power
Emirates Nuclear Energy Corporation (Enec) has signed a memorandum of understanding (MoU) with France's EDF for cooperation on research and development (R&D) in the nuclear energy sector and the potential for collaboration in the production of green hydrogen from nuclear power.
The MoU was signed at the UAE-France nuclear cooperation event E-Fusion, which was held in Dubai on 29-30 June.
The MoU sets out a path to develop the strategic partnership between Enec and EDF through the sharing of expertise and advancements in the nuclear sector. The MoU will also explore the potential for the production of green hydrogen to be produced by carbon-free nuclear energy.
EDF has provided a range of services for Enec's operation and maintenance subsidiary Nawah Energy Company (Nawah) since 2018. These include operational safety, fuel cycle management and environmental monitoring and radiation protection.
Energy & Utilities recently reported that construction works on the UAE's 5.6GW Barakah nuclear power plant were 95 per cent completed.
Speaking at the E-Fusion event in Dubai on 29 June, Saleh al-Shehhi, the chief operating officer of Nawah Energy, said that 95 per cent of the work on the overall project had been completed.
The first 1.4GW unit of the Barakah plant began commercial operations in April this year, with construction works and the fuel load for the second unit having been completed.
"Units 3 and 4 are in the final stages of construction, with 94 per cent of works on unit 3 and 89 per cent of construction works on unit 4 having been completed," revealed Al-Shehhi.
Commercial operations of the first unit began in April, following the completion of the fuel load in February 2020 and then the connection to the grid in August 2020, Al-Shehhi told the delegates.
Want more Energy & Utilities insight?
Free energy tutorials at your fingertips this May and June with Middle East Energy Online
Be confident in finding the inspiration you need to navigate the energy evolution. Be energised by 40 hours of free virtual seminars, tech demos, case studies and thought leadership, to help you find the answer to your project challenges, only through Middle East Energy 2021. Plus, discover over 150 renewable and clean energy, transmission & distribution, critical & backup power and energy consumption & management suppliers and solution specialists, from solar and green hydrogen to automation solutions, EV controls, plus switchgears and components.