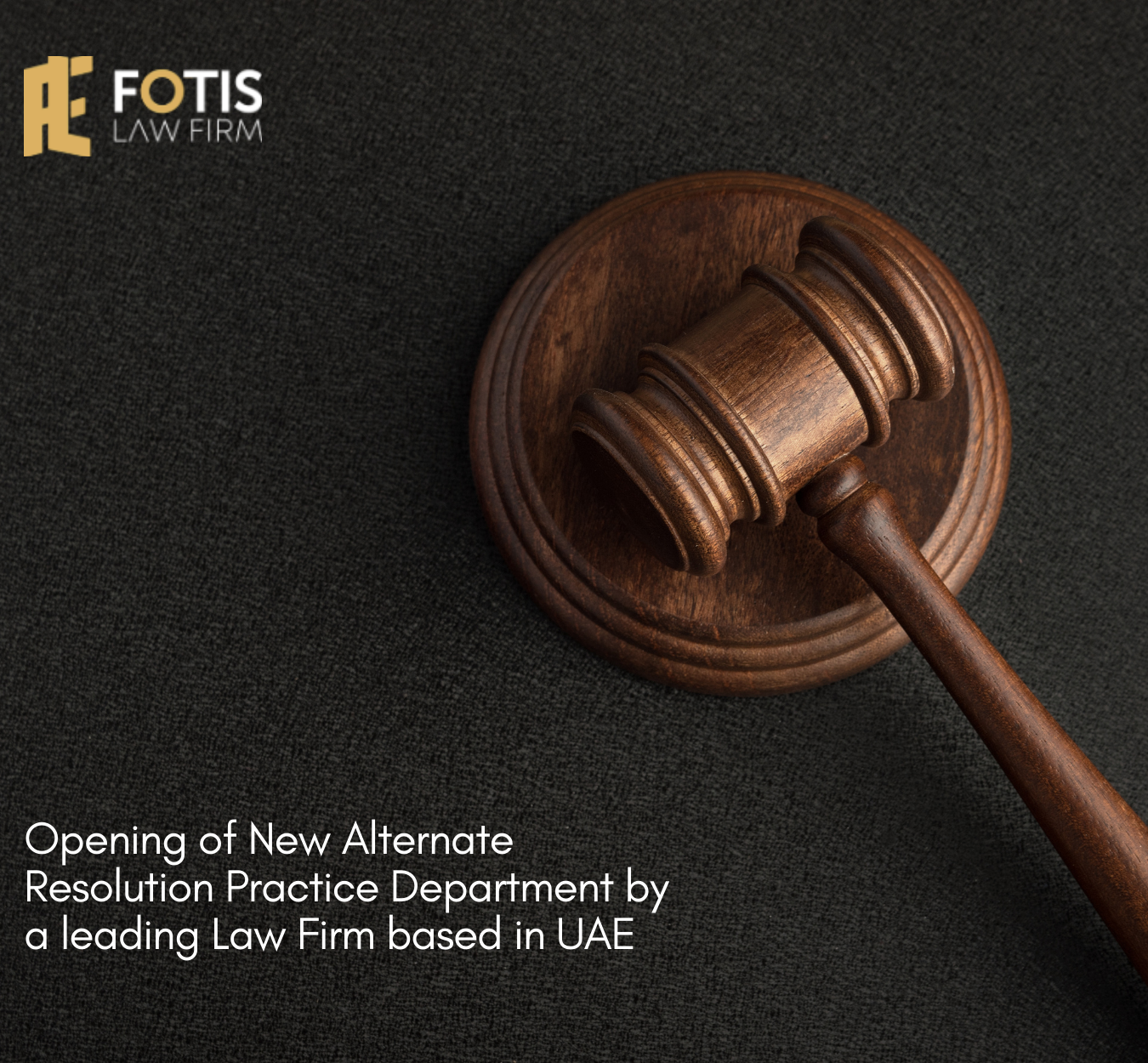 Fotis International is one of the leading Law Firms in Dubai, with years of expertise in dealing with many corporate issues. Establishing a new department exclusively for Commercial and Corporate disputes.
Fotis International Law Firm is glad to announce the opening of its newAlternate Resolution Practice in its offices across the United Arab Emirates (the UAE). The decision was announced by the Chief Operating Officer of the Firm, Mr Saji, in his statement earlier today.
Dubai has grown to become one of the primary jurisdictions for meditation and arbitration within the region and globally over the last two decades, he said. In his view, the incorporation of arbitration forums such as the Dubai International Arbitration Centre (DIAC), DIFC-LCIA (Dubai International Financial Centre-London Court of International Arbitration) and ADCCAC has catapulted the importance of the country in the global dispute resolution mechanism.
Fotis International aims to provide its signature bespoke legal services (including legal advisory, strategic case management and legal representation) to international and domestic clients. The Firm already has a substantial caseload of arbitration matters. However, these cases were, to date, being handled by the attorneys specializing in arbitration and dispute resolution matters who were a part of the Litigation Practice of the Firm. Fotis International took this step to establish a stand-alone Dispute Resolution Practice to succour the growing number of commercial, and industrial disputes in the region. The founding partners at the Firm believe in providing clients with the best legal strategy and industry-based legal advice. To that extent, we understand the requirement for lawyers in Dubai with expertise, experience and resources to represent their clients in technical cases in the country.
Fotis International Law Firm's Dubai lawyers have decades of legal experience in the UAE and globally. The legal experts at the firm are currently representing various multi-national firms specializing in FMCG, IT, Shipping and Maritime and Aviation in different arbitration centres. Mr Saji extended his sincere appreciation to the entire work staff of the new Dispute Resolution Practice including the Partners, Associates and non-legal staff. He also mentioned that the Firm had plans to expand its offices to the Kingdom of Saudi Arabia and Bahrain over the next couple of months. 'The (board) members of the Firm are already discussing the opportunity to set up offices in Saudi Arabia and Bahrain. I strongly believe that companies and individual clients in these jurisdictions will greatly benefit if the (board) members proceed forward with the proposal', he commented. Fotis International is already providing its services through this legal workforce in over three continents. We have already made our footprints in providing legal expertise all around UAE, such as in Sharjah and Abu Dhabi. We will be able to know more about this by the fourth quarter of this year.
Boasting one of the highest success rates amongst law firms in Dubai, Fotis International and its lawyers are the market leaders within the legal fraternities of the UAE, India, UK and Australia.
Media Contact
Company Name: Fotis International Law Firm
Contact Person: George SK
Email: Send Email
Phone: +971-56-129-8984
Address:Park Towers (B), Al Mustaqbal Street
City: Dubai
Country: United Arab Emirates
Website: https://fotislaw.com