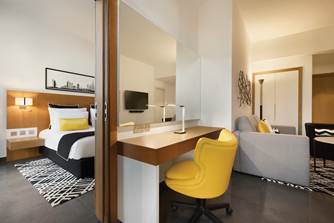 Integrated global property developer The First Group debuted its lifestyle brand, The First Collection, in Dubai.
The launch of the brand marks a major step in the firm's evolution that has long been recognized as one of the UAE's leading property developers thanks to its existing portfolio of 11 award-winning properties, which include Wyndham Dubai Marina, Millennium Place Marina and TRYP by Wyndham Dubai.
The First Group has a pipeline of seven upscale and upper-midscale hotels in development in Dubai, with many of these new projects launching under The First Collection banner, along with a selection of The First Group's existing properties that will be rebranded in the coming months.
"The First Collection brings our assets together under one sophisticated brand, providing a platform for the development of exciting lifestyle experiences that leverage our core strengths while providing investors new opportunities to further capitalize on our long-term growth plans," said Rob Burns, chief executive officer of The First Group.
"The First Collection will enable us to accelerate our expansion plans in new and existing markets, while ensuring strong brand recognition across our entire portfolio," he added.