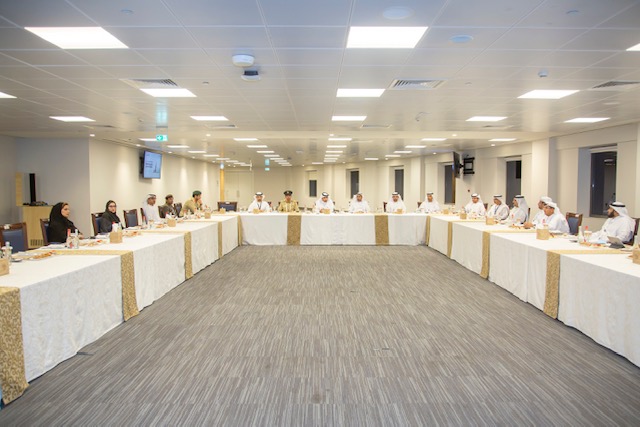 The Dubai Digital Transformation Steering Committee held an inaugural meeting to discuss the digital vision of the emirate, plan the road in the future, outline cooperation prospects, determine priorities and work together to implement Dubai's digital transformation plan and strategy.
Committee members discussed strategies for taking action on the terms contained in the Executive Council resolution issued for the formation of the new committee, which included integrating the roles of government entities closely related to the city's digital transformation efforts and supporting the emirate's transition to full digitalization The vision of society.
His Royal Highness Sheikh Hamdan bin Mohammed bin Rashid Al Maktoum, Crown Prince of Dubai and Chairman of the Dubai Executive Committee, established the committee in October this year, marking Dubai's commitment to embracing advanced technology and establishing itself in the emirate. Based on the long-term success record to guide the journey of digital transformation.
The meeting was chaired by His Excellency Hamad Al Mansoori, Director General of Digitalization in Dubai, Eman Mohamed Alsuwaidi, Senior Director of the Dubai Demonstration Center of the Executive Committee; Huda Al Shaikh, Executive Director of Corporate Services Department, Ministry of Finance; Mohammed Yousuf Al Mudharreb, Road and Transport Authority (RTA) Enterprise Technical Support Chief Executive Officer of the Service Department; Brigadier General Khalid Alrazooqi, Director of Artificial Intelligence at Dubai Police Headquarters; Colonel Hussain Ahmed Bin Ghelaita Almheiri, Deputy General Manager of Artificial Intelligence at Dubai Police Headquarters; and Ahmed Al, Chief Executive Officer, Joint Enterprise Support Services, Dubai Health Authority Nuaimi.
Maryam Obaid Humaid AlMehari, Chief Executive Officer of Dubai Municipal Engineering and Planning Department, also attended the meeting; Engineer Marwan Bin Haidar, Executive Vice President of Innovation and Future, Dubai Water and Power Authority (DEWA); Abdulla Hassan, Chief Executive Officer of Dubai Economic Enterprise Support; Juma Al Ghaith, Executive Director, Customs Development Department, Dubai Customs; Raed Kuhail, Executive Director, IT, Dubai Tourism Authority; Lieutenant Colonel Khalid Ahmed Bin Mediya Alfalasi, Deputy Assistant Director, Institutional Support Department, Directorate General of Residency and Foreign Affairs, Dubai; Mohammed Ali Albidwawi, Corporate Support, Dubai Land Authority Chief Executive Officer of the Department; Abdulrahim Hussain Ahli, Executive Director of Support and Communication with Dubai Court Institutions.
HE AlMansoori thanked the committee members and their respective entities for their high level of cooperation in coordinating plans and strategies and aligning them with the overall digital transformation strategy, which reflects the leadership's vision to make Dubai a global digital capital.
"This meeting is an important milestone in fulfilling our leadership's aspirations for an all-digital life," he added. "Today, we look at the future and work hard to shape it to fit our vision for society and future generations based on the record of achievements of all parties represented by the Digital Transformation Steering Committee and various government partners. Done. I to the Committee The ability to achieve its goals within the set time is full of confidence, thanks to the support of the leadership, teamwork and the support of government talents."
"Dubai has always exceeded everyone's expectations with unprecedented achievements," Almansuri added. "The future belongs to those who have plans. The Dubai Digital Transformation Steering Committee firmly believes that the efforts required to shape the future based on the breakthroughs of the Fourth Industrial Revolution are inclusive and comprehensive. The seeds we plant today-our city's digitalization Transformation strategies, policies and plans-will undoubtedly bear fruit in the future. Dubai will always be a global digital landmark, inspiring its residents and tourists and providing them with an extraordinary life experience marked by safety, progress and prosperity."