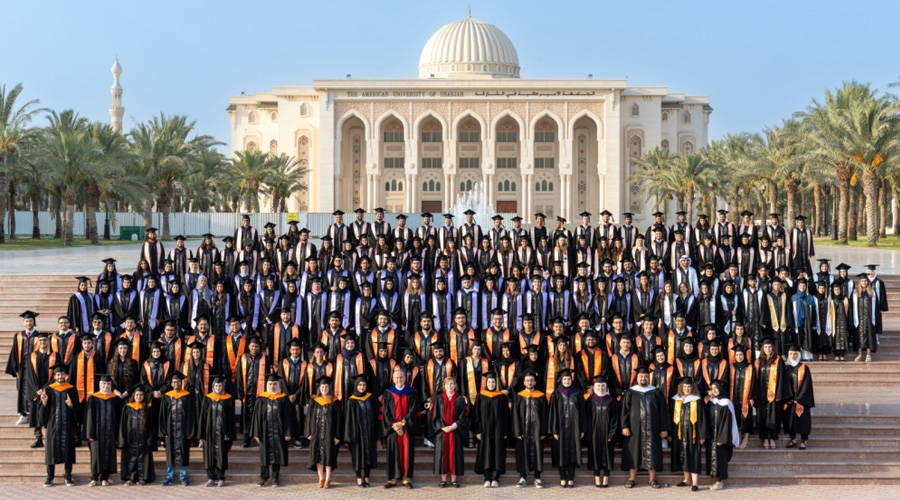 Sharjah: "The Bay"
The American University of Sharjah celebrated the results of the spring 2022 semester for 259 male and female students from various disciplines at a graduation ceremony held at the University City Hall on June 11th.
Dr. Susan Mam, Rector of the University, congratulated the graduates on their perseverance and said: "Remember as you begin this new chapter of your life that there is nothing more wonderful than working to realize your dreams and your potential. Today you embark on a new journey guided by the education and experience you have acquired at the university.We are excited to see what great success you have achieved in your disciplines.Be brave and confident and persistent in meeting challenges. Today, you join the thousands of alumni at the university who have made a name for themselves, entrepreneurs, industry leaders and academics. "
The graduation ceremony was an opportunity for the graduates to celebrate their success with their friends and families and reflect on their experiences and future ambitions; "I have matured a lot since my first year at university," said Nadine Abdel Fattah, a graduate of the College of Architecture, Art and Design. I became more confident and honest with myself and more active and involved with members of my community in college. I was able to express myself and represent my peers in architecture. I will be able to apply this knowledge in other areas. I am very grateful to my professors who helped me develop this interdisciplinary approach. "
"I was very shy, but attending many student organizations and cultural clubs improved how I communicated with others, and I also worked on developing my personal skills a lot," said Dina Abu Ismail, a graduate of the College of Business Administration. I have really changed since I first started university and my experience was one of the best I have had. Thanks to college, I got to know the "Chalhoub group" through my own fashion marketing project so I could get an internship there, and a week after graduating, I will start working there as an intern in marketing.
Mahra Taleb Al-Marri, a graduate in management, congratulated his colleagues, "Today is our day to celebrate all our achievements and dedication, and our continued belief in our ability to achieve our dreams and ambitions. Today we see the fruits of every minute we spent at the library, every night we stayed awake, and every stressful test or project we worked on.Whatever you do in the end, never stop working hard, strive for the best, and most of all, believe in yourself. "
The number of graduates reached 529, of which 425 in the bachelor's program and 104 in the postgraduate studies. The party included 216 male and 313 female students. Emiratis is 114 male and female students.