"We drew deep inspiration from the timeless tradition of Al-Halqa, the storytellers' circles as old as Arabian culture itself, where crowds would form around masters who would spin captivating yarns. It's an art form that has been given World Heritage status in Morocco and still thrives for those who know where to look in the UAE."
He said the project had proved an eye-opener in terms of what was possible within the vivid brand universe of W Hotels.
"The more we researched the history of Dubai, the generations of traders and storytellers coming together to build this shimmering city by the sea, the more excited we became. The 'Port of Travellers' was the overarching inspiration, so we set out from the ground up to imbue this hotel with the soul of storytelling and the spirit of the souk, a place for people to meet and share the stories of their travels, and a haven for modern day traders, wheelers and dealers."
Mr Nagata said the concept translated into guest rooms and suites laden with lavish touches and hints of intrigue, adventure and romance. "There's a treasure chest as a bedside table, with little treasures inside to surprise and delight guests.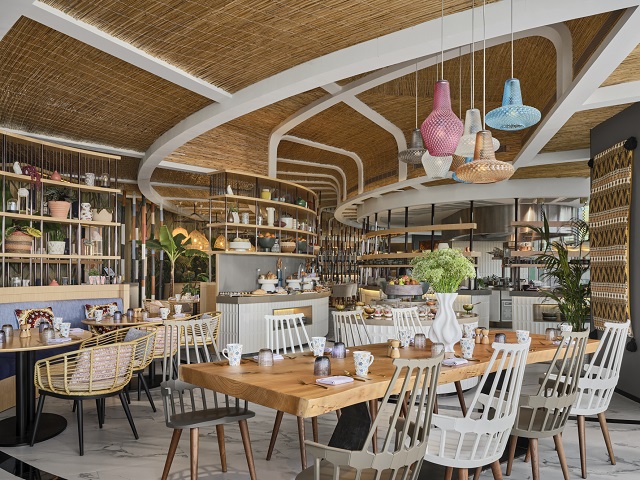 "The bed headboards are white leather, with ribs and shapes inspired by Dhows, as well as fabrics with motifs drawn from local calligraphy and being playful with paper. Lights echo ancient lanterns in colours straight from the Arabian Nights. The suites have been envisioned as a place to gather with friends for pre-dinner drinks and gossip, or for a casual meeting. The beds have a luxurious seating area, with a tilted mini-bar in brass and dark blue lacquer, a social space where drinks can be served and a perfect place for lazy grazing.
"The wow extends to the walk-in closets, closed with billowing curtains in a gradient of sunset colours, echoing the hues of the bay. We play with the idea of the secrets behind the veil. The storytelling theme extends to the bathrooms via a calligraphy theme, with bold black and white colours to echo ink and paper. The bathroom also has its own seating area, encouraging long bathing rituals, cocktails and conversation."
The hotel's signature dining experience, Ginger Moon, has been created as an eclectic and bohemian space for travellers, traders and modern nomads to gather, featuring a spectacular split-level ocean deck connected to the sparkling waters of the bay, with a restaurant and pool bar overlooking The Palm Island. The storytelling theme continues into BAR-B, the uniquely exotic spa experience.