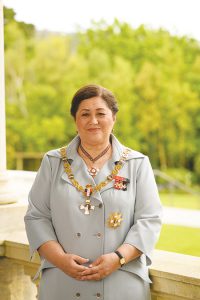 Abu Dhabi / WAM
President His Highness Sheikh Mohamed bin Zayed Al Nahyan will continue the UAE's march of prosperity and tolerance, New Zealand's Governor General Dame Cindy Kiro told the Emirates News Agency (WAM).
"I am in no doubt that His Highness Sheikh Mohamed bin Zayed will continue the UAE's onward march in building its prosperous and tolerant society. This is especially important to New Zealand in our relationships in this region," said Dame Cindy.
She was in Abu Dhabi and met His Highness Sheikh Mohamed, congratulated him on being elected as president of the UAE and offered condolences on the passing of Sheikh Khalifa bin Zayed Al Nahyan.
"I was also struck by the diversity and depth of the United Arab Emirates' friendships, which were on full display to me during this visit. It has felt like the UAE has been the centre of the world's diplomatic activity. That is a wonderful sign of respect for Sheikh Khalifa and a great sign of support for the UAE and its future," said Dame Cindy.
who was sworn in as the 22nd Governor-General of New Zealand on September 21, 2021.
The governor-general is representative of Queen Elizabeth, who is New Zealand's Head of State. Elizabeth II has been Queen of the United Kingdom, Canada, Australia, and New Zealand since February 6, 1952. The Governor-General is appointed on the recommendation of the Prime Minister of New Zealand.
Dame Cindy continued, "Among New Zealand's indigenous Māori people, we say that the standing of a person is built on the standing of family and their ancestors. And it's clear that Al Nahyan is the strongest of families this has prepared His Highness Sheikh Mohamed his whole life for this moment, and no one is better to build on the legacy of Sheikh Zayed and Sheikh Khalifa," said Dame Cindy, 63, who is the is the first Māori woman to be appointed as Governor-General.
"The New Zealand delegation which travelled here along with our friends from Australia, have probably travelled further than anyone to be here this week to pass on our condolences. We did this out of respect for Sheikh Khalifa, the Al Nahyan family, and the UAE."
Bilateral relations built by people-to-people ties
Talking about the New Zealand-UAE bilateral relations, she said the strong diplomatic and political friendship has been built by people-to-people connections. "In the early 2000s, thousands of New Zealanders established a home in the UAE as they were inspired by Sheikh Khalifa's leadership and focus on building a strong economy and tolerant and inclusive society."
New Zealand's presence in the UAE started in the 1980s with the opening of a trade office in Dubai, the Governor-General noted. The relations accelerated with the New Zealand Embassy opening in Abu Dhabi in 2013. These formal diplomatic relations were boosted with Sheikh Khalifa's decision to establish the UAE Embassy in Wellington, which was opened by H.H. Sheikh Abdullah bin Zayed Al Nahyan in 2015, she explained.
Before being sworn-in as Governor-General, much of Dame Cindy's career has been in the tertiary education sector, where she became a distinguished researcher held leadership roles at Massey University, Victoria University Wellington/Te Herenga Waka and the University of Auckland. She had served as Chief Executive of the Royal Society Te Apārangi, an independent, statutory not-for-profit body in New Zealand providing funding and policy advice in the fields of sciences and the humanities.