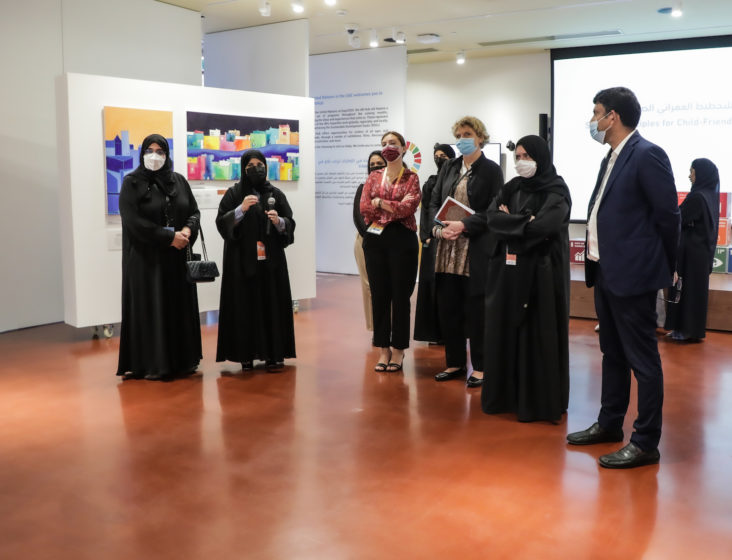 Sharjah today (Sunday) released the "Sharjah Principles for Child-Friendly Urban Planning" at the 2020 Dubai Expo, setting a global benchmark for best practices in child-friendly urban planning. The groundbreaking design guidelines that put children at the heart of urban planning were developed by the Child Friendly Urban Planning (CFUP) project of the Sharjah Child Friendly Office (SCFO) in collaboration with the Sharjah Urban Planning Commission (SUPC), UNICEF, and the United Nations. land.
The kick-off ceremony was held in the World Expo Opportunity Pavilion at the United Nations Center. The attendees were: His Excellency Dr. Khawla Al Mulla, Secretary General of the Supreme Council for Family Affairs (SCFA); Dr. Hessa Khalfan Al Ghazal, Dr. Saji Thomas, SCFO Executive Director; Director of the UNICEF Child Protection Division ; Kerstin Sommer, representative of UN-Habitat; and a taped speech by Eng Khalid Al Ali, Secretary-General of the Sharjah Urban Planning Commission (SUPC).
Coinciding with the global celebration of World Cities Day on October 31 to raise awareness of sustainable urbanization, the release of the Sharjah Principles reflects the emirate's firm commitment to people-centred, sustainable and inclusive development.
The main designer of the 10 principles, the Child Friendly Urban Planning (CFUP) project was initiated by SCFO in 2017 to realize Sharjah's visionary child-friendly urban planning method, which aims to ensure that children from different cultures and exhibitions The fundamental rights of young people have no ability to discriminate. This includes their right to express their opinions and participate in the decision-making process, thereby actively promoting SCFO to improve their quality of life through child-sensitive urban planning.
The CFUP project was officially launched as part of the SCFO Sharjah child-friendly city strategic plan
In 2018-21, it was carried out by the subsidiary body of the Supreme Council for Family Affairs (SCFA) in cooperation with SUPC, UNICEF CFCI and UN-Habitat.
Child-first global urban planning model
Sharjah's child-friendly city planning principles are based on the emirate's approach to putting children first, focusing on their specific needs in the urban environment. It proposes a global model for designing a child-friendly city, and will serve as a Sharjah government agency and related entities engaged in urban planning, construction, road engineering, and municipal authorities, including experts, engineers, designers and developers engaged in public space planning Quotient's reference.
HE Dr. Khawla Al Mulla, Secretary-General of SCFA, emphasized that the Sharjah Principles are a major achievement of SCFO. Its vision is to ensure that every child has the right to enter friendly spaces, breathe clean air, and participate and participate in decisions that affect their future. middle.
She added: "Every milestone achieved in Sharjah expands the vision of His Highness Dr. Sheikh Sultan Bin Mohammed Al Qasimi, a member of the Supreme Council of Sharjah and ruler, focusing on new achievements that will gradually increase the prosperity of community members. The introduction of the Sharjah Principles also fulfilled the instructions of His Highness Sheikha Jawaher bint Mohammed Al Qasimi, wife of the ruler of Sharjah and Chairman of SCFA, on issues related to child and family welfare."
For her part, Dr. Hessa Khalfan Al Ghazal said: "Sharjah is known for its reputation as an arts and cultural center and is promoting child-friendly urban planning principles in innovative ways. One of the first celebrations of cooperation in the field of child-friendly urban planning, it is very appropriate that we will introduce the principles of the United Nations Centre at the 2020 Dubai Expo."
The Director of SCFO thanked the strategic partners of the project for their valuable contributions in helping Sharjah cross the new milestone of "a more comprehensive and child-centered ecosystem", and added that the Sharjah Principles are "based on Sheikha Jawaher bint Mohammed Al His Royal Highness's Vision Kasimi, SCFA Chairman, his instructions guide SCFO to provide children with a thriving environment to hone their skills and develop their talents and abilities."
Congratulations to SCFO for launching the Sharjah Principles, Eng. SUPC Secretary-General Khalid Al Ali stated: "As part of its steering committee, we have participated in SCFO's Sharjah Child-Friendly City Strategic Plan 2018-21 from the very beginning. SUPC is proud of its contribution to the project, which is a step towards The first step in the future, in the future, the needs of children will be incorporated into urban planning as a matter of principle, and safe and friendly open spaces will become the norm rather than the exception."
Saji Thomas; UNICEF's head of child protection said: "We have heard a lot about Sharjah's work on child-friendly programs and its meaningful participation process. Since I moved to the UAE in November last year, I have been Witnessing it with my own eyes, I think it is absolutely commendable. It is also a good example of the proper deployment of political will and resources, which proves that what matters is not the scale of the project, but the great leadership and the right process. We should emphasize ensuring children The right to play is as important as education and health. Science tells us how important it is to the development of children. Cities should allocate resources to ensure that children have time and space to play. I congratulate Sharjah again for putting children in urban planning and development. center."
UN-HABITAT representative Kerstin Sommer said: "UN-HABITAT congratulates Sharjah for its work in initiating and realizing child-centered urban planning. It is absolutely commendable. We all know that providing such a space for children's comprehensive development is absolutely commendable. How important. Physical activity is vital to everyone's mental health, especially children. Urban play spaces where children can move freely and interact with their peers also help promote social skills among them, which is also beneficial to their development. Very important. Cities must ensure that these spaces are also inclusive and provide overall social development for their caregivers, parents and families. In this area, it is important to consider the climate so that children can play outdoors all year round. I thank you for this opportunity and look forward to seeing Sharjah's child-friendly urban planning principles widely adopted and maintaining child-friendly facilities for future generations."
Child-friendly city planning (CFUP) project results
Soon after the CFUP project was launched in 2017, it worked with SUPC and UNICEF to organize a brainstorming session for children, where they shared their vision and ideas for new inclusive urban features and facilities to develop Their community. The results of site-specific assessments, lessons learned, results and recommendations based on Sharjah's experience all form part of the child-friendly city planning guidelines.
Sharjah child-friendly city planning principles
Fair spatial distribution, sufficient quantity
Universal design and safe space
Promote participatory methods
Tackling climate change
Humanized design
Plan to play
Promote walking and cycling
Promote health benefits
Fusion of culture, history and heritage
Maintenance and sustainability plan