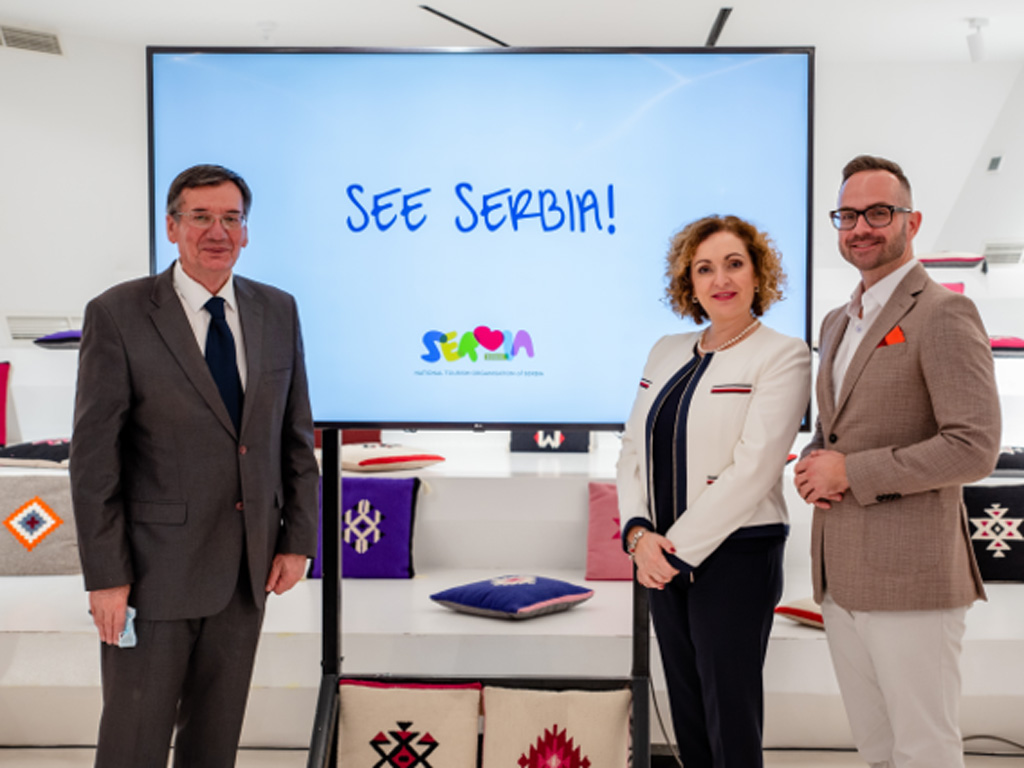 Serbia considers the UAE to be one of its top tourism markets due to its excellent airline accessibility and the fact that UAE citizens do not require a visa to enter that country.
"Serbia has everything to offer discerning visitors, and Expo 2020 Dubai is an excellent opportunity to present Serbia as a tourist destination to potential guests," Marija Labovic, CEO of the National Tourism Organisation of Serbia, said while unveiling the country's new global tourism branding at Expo 2020 Dubai.
The National Tourism Organisation of Serbia plans to maintain Serbia's position as one of the fastest-growing leisure and business travel destinations in Eastern Europe. Stanimir Vukićević, Ambassador of the Republic of Serbia to the UAE and Serbia Pavilion Director Igor Kovacevic were also in attendance at the event.
Serbia's tourism product was showcased by the National Tourism Organisation, which included short holidays in Serbian towns, active vacations in the wilderness, natural beauty, and events held in the country.
The presentations also focused on the country's cultural and gastronomic offerings, making it an ideal destination for family travel and its capabilities to be a leading meetings and events destination.
Labovic encouraged guests to explore Serbia's many adventures, natural attractions, and cultural diversity while promising them a unique and enticing experience.
A total of over 40 delegates, including hotels, destination management companies, and other representatives of the Serbian tourism industry, attended the event to network with local tour operators and travel agencies from the UAE.
Labovic added: "The event was held to show our commitment to setting a new standard for travel through safety and unique experiences as well as to strengthen relationships with business partners and find new ways to increase the number of visitors from the UAE and the wider region."
The event, which was the National Tourism Organisation of Serbia's first physical event in the UAE in three years, aimed to identify, develop, and implement growth opportunities for the benefit of all stakeholders. Furthermore, it seeks to contribute to the Serbian economy by improving, expanding, and promoting tourism.– TradeArabia News Service