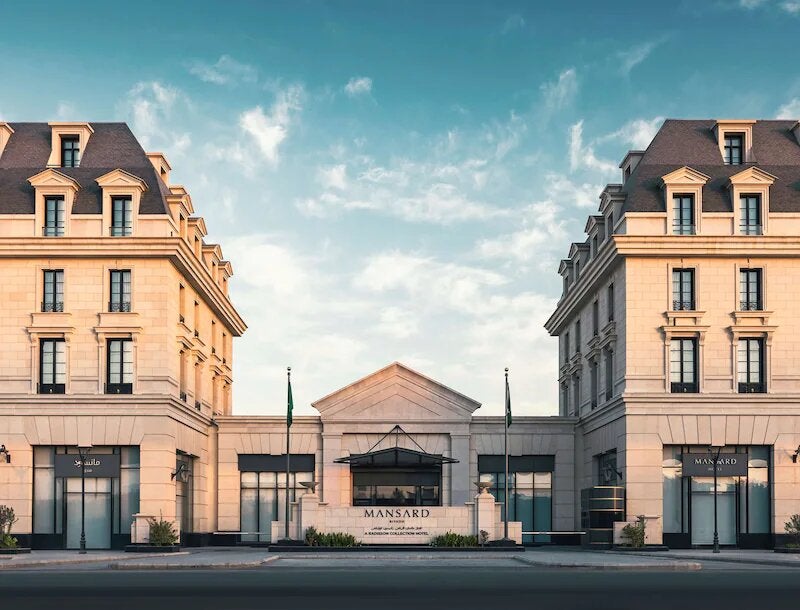 Radisson Hotel Group (RHG) has opened a hotel under its luxury lifestyle brand Radisson Collection, in Riyadh, Saudi Arabia.
The new built hotel, Mansard Riyadh, A Radisson Collection Hotel, is located in the northern neighbourhood of Ar Rabi.
It is the brand's second hotel in the city.
The new property features 191 rooms comprising 140 guestrooms, 27 serviced apartments and 24 three-bedroom villas.
The two floor duplex villas of up to 230m2 features fully equipped kitchen, living room, powder room, and table for six dining room.
Mansard Riyadh, A Radisson Collection Hotel also offers six meeting rooms equipped with advanced technology.
In collaboration with New York-based restaurant company Major Food Group, the hotel will open two restaurants – Carbone to give Italian American dining experience, and Sadelle's, brunch destination concept from New York, later this year.
Radisson Hotel Group Middle East, and Africa area senior vice president Tim Cordon said: " We are absolutely delighted to open our second Radisson Collection hotel in Riyadh, joining Nofa Resort, A Radisson Collection Hotel, as we continue to grow our luxury lifestyle footprint in the Saudi Arabian market with exceptional hotels and unique hotel experiences across leisure, dining, fitness, wellness and sustainability.
"We believe Mansard Riyadh, A Radisson Collection Hotel will become one of the leading hotels in Saudi Arabia with its one-of-a-kind spaces where premium lifestyle meets remarkable sophistication."
Mansard Riyadh, A Radisson Collection Hotel marks the second property for the luxury lifestyle brand in the city.
The property is designed by Hirsch Bedner Associates Dubai (HBA), with Remaizan S. Al Remaizan Architectural Consultants serving as the architect.
It has easy access to shopping centres, cafés, and dining options, and is just a short distance from the King Abdullah Financial District.
Last month, RHG debuted the Radisson Collection brand in Croatia with the opening of 227-room Grand Hotel Brioni Pula.