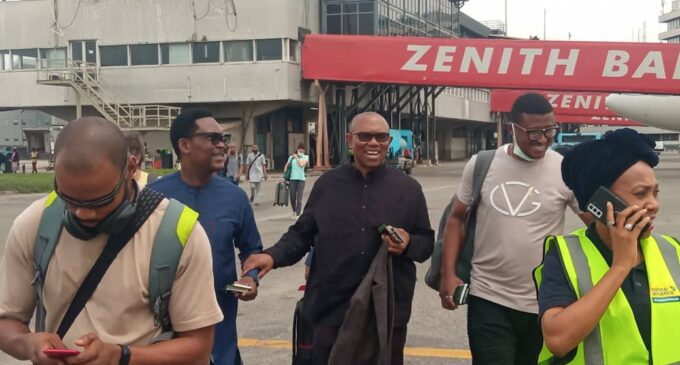 Nigerians have reacted to the three-day visit of the Presidential candidate of the Labour Party, Peter Obi, to Egypt.
Naija News earlier reported that the former Anambra State Governor departed Nigeria for Egypt for a three-day working visit.
In a tweet via his verified Twitter handle on Tuesday, Obi said that the visit to the North-Eastern African country is part of his detailed study of comparable countries to Nigeria.
While in Pharoah's land, Obi said he is expected to understudy the country's Power, Education, Planning and Finance sectors.
Following the development, some netizens took to social media to berate Obi over his trip to Egypt to understudy the country's major sectors, while others commended the former Anambra governor for his visit to the North African country.
Below are some of the reactions.
Heard @PeterObi traveled to Egypt to learn how to fix Education/Power problems, this is exactly the problem with unprepared candidates. It is 9 months to election & a two-term gov. & former VP candidate want to go learn something from Egypt in 3 days? Wow! #WeCantContinueLikeThis

— Omoyele Sowore (@YeleSowore) June 14, 2022
Peter Obi should be going to Ekiti not Egypt. Election is happening on Saturday in Ekiti, Obi says he's going to Egypt to understudy their system. Labour Party have a Guber candidate in Ekiti. This was how Moghalu was all over social media but someone called Dumebi defeated him.

— Comrade Deji Adeyanju (@adeyanjudeji) June 14, 2022
Every little opportunity you have to make an inroad, make an impact, connect with people, YOU GRAB IT!
Let me repeat!@PeterObi should have been in Ekiti not Egypt!

— Aisha Yesufu (@AishaYesufu) June 14, 2022
Peter Obi is on his way to Egypt as he is busy understudying different things in different countries to better Nigeria, on the other hand; the bullion van and dollar men are scheming on how to get there by all means, their ticket go cut this time around#PeterObiForPresident2023

— Adenekan Mayowa (@Mayorspeaks) June 14, 2022
"Why is Peter Obi going to Egypt?"

If you were better than someone and the person significantly gets better than you, while you keep regressing, won't you humble yourself to learn from that person?

That is simply why Peter Obi is in Egypt. Thank you. pic.twitter.com/fMdHLRpcze

— Everest (@novieverest) June 14, 2022
So, obviously Peter Obi isn't going to learn everything there is to learn in 3 days.

But his choice of Egypt to visit makes economic sense when you compare Egypt to Nigeria. Egypt was just where Nigeria is and they grew past it.

We need better critique not empty ones.

— 10X Tech Bro (@OdunEweniyi) June 14, 2022
I'll be the first to criticize a Peter Obi move that comes off weird but there is nothing wrong with his Egypt trip nau, it's just 3 days ffs not 3 weeks. He might as well be in his house for those 3 days. Why are some of you frothing?🤦🏾

— Ugwunna Ejikem (@UgwunnaEjikem) June 15, 2022
Egypt, a country of about 109 million people generates about 60,000 megawatts of electricity while Nigeria (the giant of Africa), with a population of almost 200 million generates 4,000 megawatts. Yet some of you are asking why Peter Obi is going to Egypt. It's embarrassing!😩

— Mazi Olisaemeka C. ™ (@OlisaOsega) June 14, 2022
Peter Obi is just too strategic God 😩😩

While some people went to Germany for medical checkup and others are busy with local politics, my President is going to Egypt to study how they doubled their power generation in 10years and how they built 10k factories in 7yrs 🤣

— J a c k 🇳🇬 (@Jack_ng01) June 14, 2022
Just cos of Egypt trip that has a splendid objective, his name has been on everyone's lips since morning. At this point, you'd think Peter Obi and Labour Party are the incumbent administration.

— Adewale Adetona (@iSlimfit) June 14, 2022
Peter Obi traveled with his own money to acquire knowledge in a foreign land for 3 days. Channel your anger to elected officials squandering tax payer's money instead.

For a start, Aisha Buhari relocated to Dubai in 2020 with her aides. Who is paying for her stay there?

— Field Marshal ⚡️ (@General_Oluchi) June 14, 2022