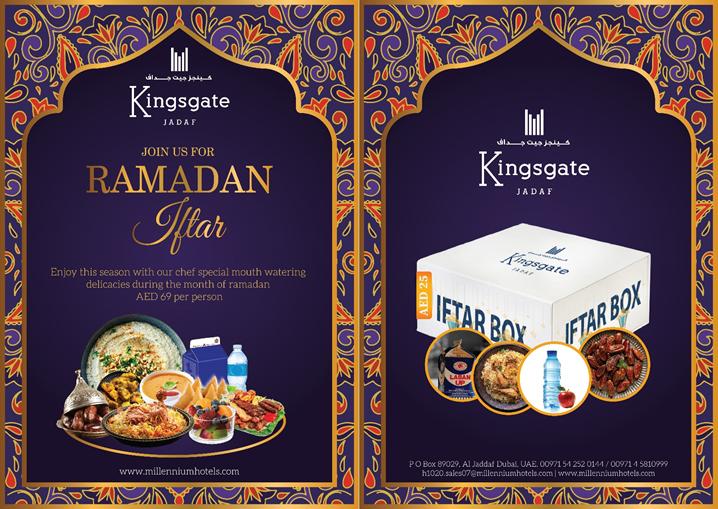 The most highly anticipated time of the year is round the corner. If you are looking for a unique delightful Iftar experience then Kingsgate Hotel, Al Jadaf Dubai is the ideal choice to dine this Ramadan. Savor the finest traditional Arabic delicacies with the best of international favorites in the most exquisite surroundings of the hotel's restaurant. Enrich your evenings with heart-warming ambiance and service. There are fabulous corporate and group deals available for you to take advantage of.
Here's what on offer:
Sumptuous Iftar offer:
The traditional Iftar is available daily during Ramadan from sunset until 10pm at a cost of AED 69 per person at the Smoke House Restaurant and features a wide range of Arabic culinary delights. Children between the age of six and twelve dine with 50% discount and Children under the age of six dine for free.
Special Group Iftar offer:
The Group Iftar, which offers a truly exquisite taste of Arabic culinary delights topped up with traditional Arabic sweets for bookings of not less than 20 persons at AED 59 per person
Early Bird Iftar offer:
We also have special rate for Early Bird Group Iftar, which offers a truly exquisite taste of Arabic culinary delights topped up with traditional Arabic sweets for bookings of more than 10 persons at AED 59 per person confirmed on or before 15th April 2021.
Iftar Box offer:
The iftar box offer includes a delightful mix of chef special Arabic flavors with an exclusive price of AED 25
Above prices are inclusive of 10% Municipality Fees and 7% Service Charge
For reservations and more information call 04 5810999
So this Ramadan, it is time to head for Kingsgate Dubai, that's all set to offer an outstanding guest experience at a competitive price to both international and regional visitors. It couldn't get better than this.
About Kingsgate Properties, Al Jadaf:
The Kingsgate properties are positioned in Al Jaddaf, Dubai's most prominent accessible area, close to the upscale Culture Village, as well as major malls and attractions including Dubai Festival City, Dubai Frame, Dubai Canal, Meydan Race Course and Dubai Mall, within easy reach of the city's top tourist attractions and just 5 minutes by road from Dubai International Airport. A total of 265 guestrooms blends contemporary luxe decor with modern amenities and thoughtful touches that have your ultimate comfort in mind. Guests can relax in a haven of tranquility and enjoy the flat-screen satellite TV, in-room entertainment, working desk, complimentary tea and coffee, and free Wi-Fi.
Whether visiting Dubai for business or leisure, guests can take advantage of the hotels world-class service and unbeatable location, offering convenient access to both the central business district and the city's key sights. Al Jadaf Metro Station is 1 minute away from the hotel, the Jaddaf bus stop is situated just over the road and RTA Abra (boat) Station is in walkable distance.