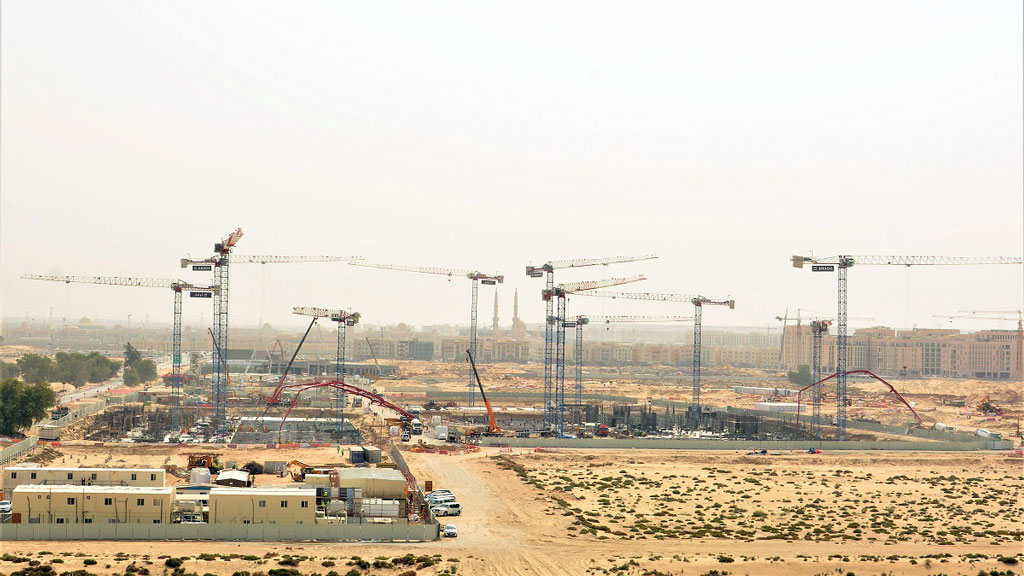 DUBAI, UAE—Crane manufacturer Raimondi Middle East has announced the successful installation of 11 cranes at a construction site in the United Arab Emirates.
The 11 topless tower cranes were installed at Sharjah, the site of the Aljada residential project, being undertaken by the developer Arada, stated a recent release. East Village, which constitutes the second residential phase of the development, will contain 16 buildings including 2,000 residential units, commercial and recreational structures.
The complement of equipment included six Raimondi MRT111 cranes and five MRT159 flattop tower cranes.
"Due to the layout of the jobsite and the substantial number of cranes operating simultaneously, the project presented specific challenges," said Wael Hasan, commercial director for Raimondi Cranes Middle East, in a statement.
"First, Raimondi Middle East operations and technical departments had to strategically study the cranes' erection and positioning site plan to ensure machine efficiency and safety. Secondly, we were focused on speedy delivery and installation to meet the client's needs."
The MRT111s, currently at work with jib lengths ranging from 42 to 50 metres, are freestanding with a height under hook (HUH) between 38.55 and 47.2 metres.
The Raimondi MRT159s, also freestanding with an HUH ranging between 31 and 47.2 metres, feature jib lengths going from 42 to 50 metres.
Each crane erection took one day involving four staffing groups. The cranes have a maximum lifting capacity of eight and 10 tonnes respectively.
One benefit of the MRT159 flattop is that it arrives onsite with all parts preassembled, ropes passed, and rope connections installed, facilitating easier onsite integration and installation, the release noted.
The cranes, positioned across three different plots on the development, will lift site materials as part of the development's ongoing construction over the next year.
Raimondi, based in Italy, has previously installed more than 15 Raimondi tower cranes at Aljada.
"We are very proud to keep working with one of region's most influential master developers," said Hasan.