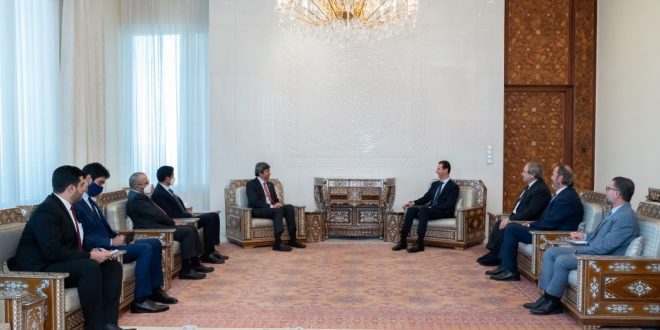 President Bashar Al-Assad received on Tuesday Minister of Foreign Affairs and International Cooperation of the United Arab Emirates, Sheikh Abdallah bin Zayed Al Nahyan, accompanied by Mr. Khalifa Shahin, Minister of State at the UAE Foreign Ministry and Mr. Ali Mohammad Hammad al-Shamsi, Chairman of Federal Authority for Identity, Citizenship, Customs and Ports Security.
Talks during the meeting dealt with bilateral relations between the two brotherly countries and the development of bilateral cooperation in various fields of common interest, in addition to intensifying the efforts to find new aspects for this cooperation, particularly in vital sectors to boost investment partnerships in these sectors.
President al-Assad affirmed the strong brotherly relations between Syria and the United Arab Emirates since the time of late Sheikh Zayed bin Sultan Al Nahyan.
President al-Assad hailed the objective and correct stances adopted by the UAE, stressing that it has always stood by the Syrian people.
Source: SANA