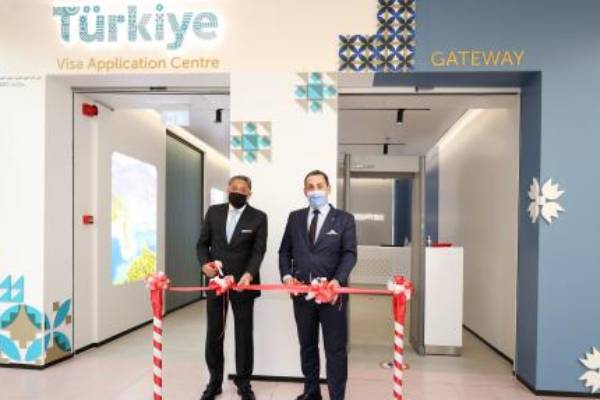 The Turkish Consulate General in Dubai, Gateway Management and VFS Global, the world's largest visa outsourcing and technology services specialist for governments and diplomatic missions worldwide, officially inaugurated its newly renovated Turkey Visa Application Centre on April 25 at the Wafi Mall, Level 3, Falcon Phase 2, Umm Hurair 2, Dubai, UAE.
The centre is now operational and accepting visa applications for all categories from Sunday to Thursday between 9.00am to 3.00pm.
The centre was officially inaugurated by Mustafa İlker Kılıç, Consul General of Turkey in Dubai, and Vinay Malhotra, Regional Group COO for South Asia, MENA & Americas, VFS Global, in the presence of dignitaries from the Turkish Consulate General, Gateway Management and VFS Global staff members, as well as project partners.
Spread across 5,500-sq-ft, the new centre is equipped with 16 application submission counters and can accommodate up to 250 applicants a day. Effective March 1, as part of the visa application submission process, biometric enrolment has been made mandatory for all visa categories by the Government of Turkey. The new centre has dedicated biometric booths for immediate enrolment of biometric information. In addition, to provide greater convenience to the customers, a dedicated kiosk offering flight ticketing service by Turkish Airlines, the national flag carrier airline of Turkey, has been strategically positioned within the Visa Application Centre.
The centre was designed and decorated with a Turkish character by award-winning Dubai based Turkish architect, Dilara Ajun, with the aim to provide applicants a glimpse into Turkey while launching their applications. The Turkish experience starts from the entrance of the centre which, while efficiently collecting applications, also showcases Turkish tourism, culture and trade.
Vinay Malhotra, Regional Group COO for South Asia, MENA & Americas, VFS Global said: "We are excited to take our partnership with the client Government of Turkey to the next level with the launch of a dedicated centre. The UAE has a large number of travellers to Turkey for leisure and business, and a dedicated centre will make the visa application process more seamless as well as promote Turkish tourism. Travellers applying for Turkey visa would be able to submit applications and enroll their biometrics all under one roof, thus saving time and ensuring a seamless customer experience from start to finish."
For customers seeking luxury and convenience, the Turkey Visa Application Centre offers Premium and Platinum Lounge services. Gateway Management and VFS Global's exclusive Premium Lounges offer end-to-end personalised service, assuring individual assistance with all visa related queries, quicker completion of the application submission process, and immediate biometric enrolment, all within a modern and plush lounge facility. Once a decision is made on the visa application, the passport and documents will be delivered to the doorstep by courier. Automatic updates at each stage of the visa application will also be shared via SMS. In addition to these services, Platinum Lounge service also includes a personalised chauffeur service to and from the Visa Application Centre making the visa application process as convenient for the customers as possible.
As an optional service to customers wanting to complete their entire visa application submission process from the comfort of their home or office, Gateway Management and VFS Global continues to provide the "Visa At Your Doorstep" service whereby a customer can submit the application, enrol biometrics, and get the passport couriered back to his/her location of choice.
In order to ensure a safe, productive work environment for customers and employees, while still protecting communities to the maximum extent possible from the spread of Covid-19, Gateway Management and VFS Global has established standardised protective measures to be followed across the centre including specific social distancing and sanitation mandates.
Prospective travellers are required to book their appointments via call center as applications will be accepted only through prior appointment booking. – TradeArabia News Service