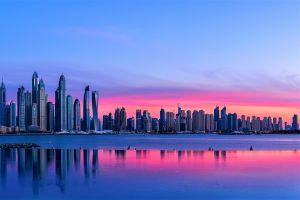 While the United States is still awaiting the debut of its first bitcoin (BTC) exchange-traded fund (ETF), the Middle East looks set to beat it to the punch – with a fund in Dubai on the verge of launch.
The issuer will be the Canadian crypto investment manager 3iQ, which has already released crypto products on the domestic market. Its CEO Fred Pye told Bloomberg TV, that his firm planned to raise over USD 200m with a listing on the Nasdaq Dubai exchange, with a local firm – Dalma Capital Management – set to act as the new fund's syndicate manager.
Pye stated that 3iQ was looking to working with banks in the UAE and "also potentially banks from other countries in the region."
He said,
"We trade on the North American market times and Dubai is almost perfectly opposite of what our trading hours are."
3iQ has been ramping up its domestic activities, too, and earlier this year announced the imminent launch of a new Toronto Stock Exchange (TSE)-listed ETF.
Last year, in association with CoinShares, the firm launched its first TSE Bitcoin ETF.
Also last year, 3iQ's Ether Fund, an ethereum (ETH)-backed offering was listed on the TSE, raising some USD 76.5 million in the lead-up.
Pye added that BTC's scarcity would likely see the token's value rise to the USD 100,000 mark in the next three years, and opined:
"We've seen bitcoin consolidate in the USD 50,000 to USD 60,000 range. We expect that to continue."
At 13:37 UTC, BTC trades at USD 55,170 and is down by almost 1% in a day and 12% in a week, trimming its monthly gains to less then 2%. The price is up by 708% in a year.
___
Learn more:
– Bitcoin ETFs at the SEC Gate
– Canada's Bitcoin ETFs Losing Momentum, But Not Investors' Interest
– US SEC Now 'On the Clock' for Key Bitcoin ETF Decision
– New Exchange To Offer Sharia-Compliant Bitcoin, Ethereum, XRP Trading
– UAE Financial Watchdog Set To Regulate Crypto By 2022