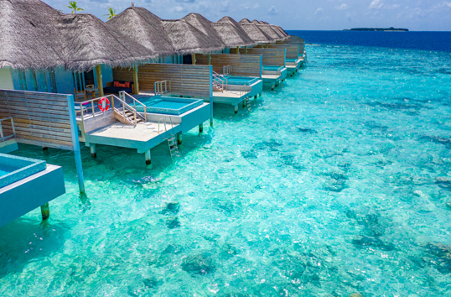 Sun Siyam Resorts, a leading Maldivian hospitality group featuring a portfolio of five luxury private island properties, will be opening its regional office in Dubai this month.
The move will help the group to tap into the GCC market following a rise in travel as we near the end of the Covid-19 pandemic.
Since opening its first resort over 20 years ago, Sun Siyam Resorts have grown to own and manage five luxury private island properties in the Maldives and a boutique beach retreat on the East Coast of Sri Lanka.
Each resort is unique, but what unites them all is the genuine warmth and heartfelt hospitality of their people, many of whom have been with the hospitality group from the beginning.
Emirates Holidays' former product and contracting manager Manica Radjou steps in as director of the Sun Siyam Regional Office.
An industry veteran, Radjou has the experience needed to take the Sun Siyam Resorts to new heights within the GCC, said the statement from the Maldivian hospitality group.
Beginning with the intent to promote inbound tourism to the Maldives, Sun Siyam Travels was established in 1990, founded by Ahmed Siyam Mohamed, the Chairman and Managing Director of the Group.
The opening of a Dubai based office will allow the company to begin expanding their operation globally with attentive focus on the GCC region to gain market share for its portfolio, it stated.
On the new Dubai office, Deepak Booneady, VP (Commercial) Sun Siyam Resorts, said it looks forward to the 'Growth and development of the brand in the region.'
The easy access of inbound flights to the popular holiday destination has further secured increased travellers to the country from Middle East, stated Booneady.
The office launch comes at a time when Sun Siyam Resorts is opening its fifth property in the Maldives, a stand-alone brand in its collection, in October.
"Middle Eastern millennials are especially keen to flock to top-notch tourist destinations with their families by their side; trends show increased preference to travel in small groups. Our resorts ticks all the boxes as a popular brand for the Middle Easterners," he added.-TradeArabia News Service