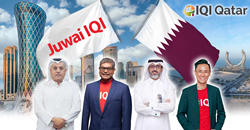 "Qatar is the world's fourth wealthiest nation with great opportunities for investment."
KUALA LUMPUR, Malaysia (PRWEB) June 08, 2022
Through a partnership with Qatar's Bin Ajlan Real Estate group, Juwai IQI can assist local buyers and international investors with cross-border property transactions and provide them with the best services.
Juwai IQI Group Co-Founder and CEO Kashif Ansari welcomed the whole team at IQI Qatar into Juwai IQI.
"Qatar is the world's fourth wealthiest nation with great opportunities for investment. We hope to provide the Qatari real estate market with technology, support, and services that surpass the highest possible standards to take the market to the next level.
"IQI Qatar will assist local buyers and both inbound and outbound investors with their cross-border property transactions. Expats make up approximately 75% of Qatar's population. This market is a haven for relocation, and with top rental property management and international investment advisory services, it has the potential to rank even higher.
"Together with our new team at IQI Qatar, we pledge to succeed in bringing the best service to customers and investors in and outside of Qatar. Let us thrive together in this incredible new partnership."
Ali Saleh Ajlan, the President of Bin Ajlan Real Estate Group also expressed his enthusiasm to become a part of the global IQI agent network.
"Our team will receive the best technology, marketing tools, training, and cross-border opportunities available anywhere. I am confident that our agents will be more productive and have more opportunities as IQI Qatar. Now, our team can help Qataris who want to invest overseas and local Qatari real estate developers who want to reach global investors."
With the launch of IQI Qatar, Juwai IQI has now expanded its global network over 10 years to a total of 22 countries, including Dubai, Canada, the United Kingdom, India, and Pakistan.

Share article on social media or email: