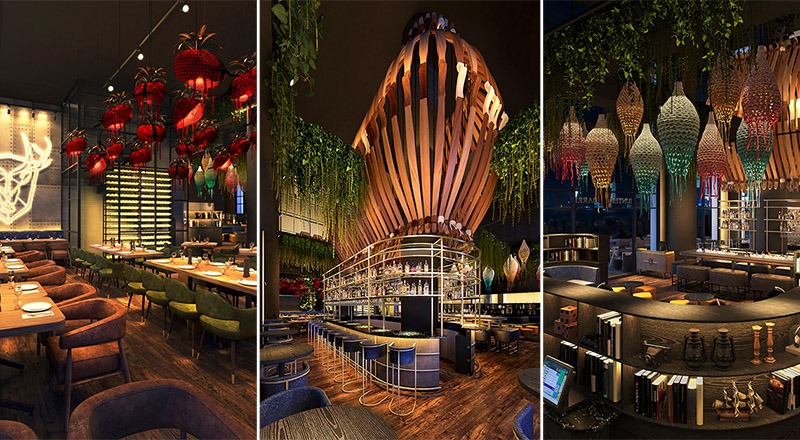 Conceived in Australia and operated by Seagrass Boutique Hospitality Group, Hunter & Barrel, is an award-winning high-end casual dining restaurant and lounge. The Dubai branch boasts a 232-seat restaurant with a spacious dining room, two private dining spaces, expansive patio seating, adjoining full-service bar and lounge, and an elevated DJ booth.
"We are tremendously excited to be opening our first regional Hunter & Barrel outlet at Vida Emirates Hills in Dubai," said Rob de Villiers, regional managing director of Seagrass Boutique Hospitality Group. "Having taken Australia by storm, we are confident our hallmarks of charcoal roasted meats and vegetables – which have been given a regional spin by head of culinary, chef Kamil Bouloot – will become a favorite for diners across Dubai and beyond."
With succulent, smoky meats at the core of the Hunter & Barrel's food offering, Bouloot has created starters of open-fire prawns and smoky chicken wings; lighter meals include salad options, char-grilled chicken and kale, and cured salmon fillet. Burger lovers can also enjoy a wide selection of Angus beef and corn-fed chicken burgers.
Hunter & Barrel's extensive barrel-aged craft drinks are also appealing. Matured in an in-venue cellar, the drinks menu features an exciting selection of eight different hops and 16 varieties of grape.
With the notion of the "hunt" ingrained in Hunter & Barrel's DNA, the design of the brand's maiden foray in the Emirates draws inspiration from regional customs and long-standing local traditions including falconry, fishing and archery. The venue is dressed in lighting, furniture and design elements which evoke falcon blinders, wooden bows and fishing nets, while the modern color pallete represents coral reefs.
"We strived to ensure Hunter & Barrel's first restaurant in Dubai stayed true to the brand principles of highlighting local traditions and heritage iconography related to land and sea aspects of hunting. It was essential to highlight fundamentally regional takes on sports and ways of life that are prominent to the native tribes of the region," said Callie van der Merwe, founding partner of Design Partnership Australia.