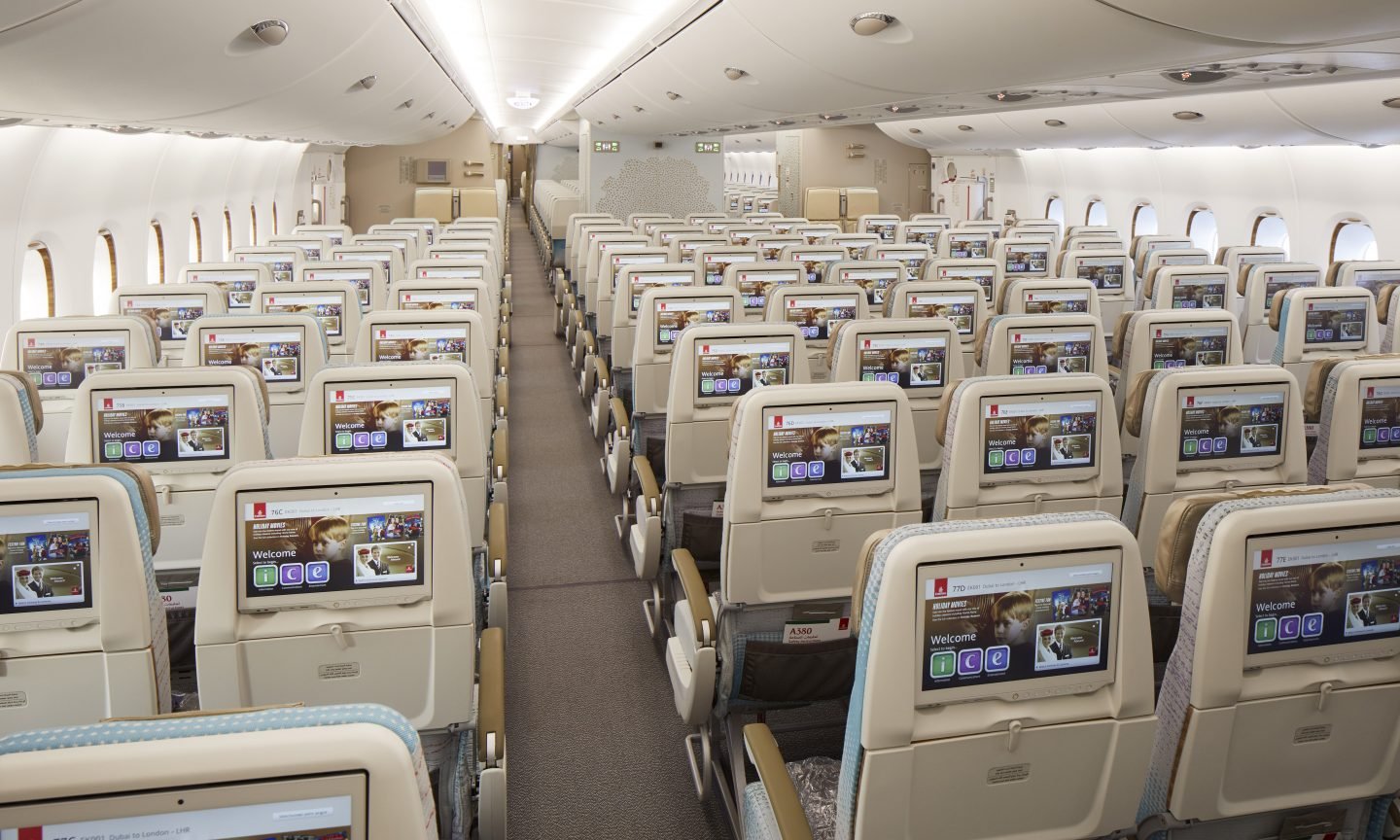 Emirates is known for its service and luxury. However, for the budget-minded, Emirates Airlines economy class can offer surprising value.
With spacious economy seats and notably good economy food, the savvy traveler can make the most of Emirates, even in the economy cabin.
What to expect flying economy with Emirates
Value-focused travelers will find Emirates international economy flights pricier than those on budget airlines, but the trade-off is a much more enjoyable experience in economy class. Know what to expect to get the most of your flights in Emirates economy:
Bag allowance. Your baggage allowance varies based on your fare type and location. For flights to and from the U.S., if you have what's called a special economy fare, you're allowed to check one bag up to 44 pounds (23 kg). However, saver, flex and flex plus economy class fares receive two bags, each at the 44-pound (23 kg) limit. With the exception of flights originating in Africa, if you're flying to/from a region other than the U.S., a different weight-based system applies.

Boarding. Priority boarding is available for families and for Emirates Skywards Platinum and Gold members. Otherwise, the economy cabin is boarded row by row based on seats on the plane, with those in the back boarding first.

Seats. Free economy seat selection is available online 48 hours prior to boarding or with your purchase of flex and flex plus economy fares. Emirates' international economy seats are comfortable, with above-average size, ergonomic features, flexible side panels and leather headrests.

Upgraded economy tickets. Emirates only unveiled a premium economy product on select A380 flights at the end of December 2020. These seats include a 40-inch pitch — incredible legroom for premium economy travelers — and a 19.5-inch width. These seats will also be installed on the Boeing 777X Emirates is adding to their fleet. For now, these seats are hard to come by and will only be offered as spot upgrades, most likely for those with higher loyalty status.
Ways to get good value
Stay awake and enjoy the show
While the A380 will provide a quiet and smooth flight perfect for napping, save yourself the cost of several movie tickets and enjoy Emirates' award-winning entertainment system. With 13.3-inch seat-back screens and thousands of entertainment options — movies, TV, music, games and even language-learning applications — you may have a hard time resisting the entertainment options available.
Bring the kids
For the budget-minded traveler, booking a whole family on a premium airline may seem counterintuitive; however, Emirates is extremely child-friendly and justifies a potentially higher flight cost. The airline goes above and beyond in terms of entertainment for kids, with child-friendly channels on the TV system, stuffed animals and accompanying blankets, and various age-appropriate travel-themed activity packs.
Emirates even provides special children's in-flight meals, organic baby food options and milk- and bottle-warming services. On top of all these perks for kids, children 11 years and younger travel on a discounted fare. There are even separate check-in desks for families to help ease the potentially stressful experience of traveling with children.
Use the Best Fare Finder and pay in cash
Emirates' Skywards loyalty program is not known for giving frequent travelers the best bang for their buck, though there are a few ways to find redemption sweet spots. Good deals on Emirates through partner airlines, such as Japan Airlines and Alaska Airlines, are possible, but more difficult to find than simply looking for good deals in cash.
To make it easier to fly Emirates economy class for less, use the Best Fare Finder tool on the Emirates website. Only available for economy travel on Emirates Airlines, this tool shows a classic fare calendar to find the best deals for those who can be flexible with their travel dates.
If booking with points, don't forget the fifth-freedom flights
Fifth-freedom flights refer to flights operated by an airline between two countries, neither of which is the airline's home base. While Emirates may be based in the United Arab Emirates, it operates fifth-freedom flights that can provide incredible value for U.S.-based economy class travelers. New York to Milan and Newark to Athens are two of the fifth-freedom flights Emirates operates through the U.S.
While the COVID-19 pandemic has disrupted typical flight schedules, fifth-freedom routes have the potential to give you the biggest bang for your buck, especially when booking with loyalty points.
The bottom line
Emirates is best known for its luxurious first and business class products. Still, with high standards of inflight service; enjoyable, regional economy food; and generous seat sizes and baggage allowances, there are plenty of ways to make the most of economy class on Emirates Airlines.
How to Maximize Your Rewards