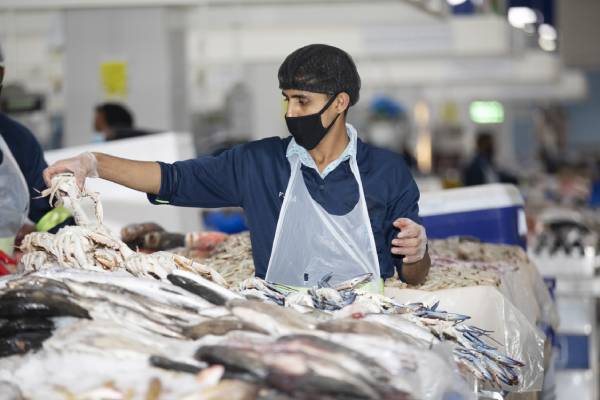 The Hotel Show Dubai has announced The Waterfront Market, Dubai's premier fresh food supplier and the region's largest fish and seafood market, as an exclusive supplier of all fish and seafood ingredients to chefs participating at the Chefs Table competition at the 21st edition of the trade show this year.
Hailed as a lifeline for the hospitality industry during the pandemic, the Waterfront Market will ensure chefs and their teams are using the freshest and best quality seafood products during the live and in-person event running from May 31 – June 2. Additionally, each fish course that participating culinary chefs will be preparing at the Hotel Show Dubai will also be used in an e-recipe book, available for download from The Hotel Show Dubai and The Waterfront Market websites.
The Waterfront Market showcases over 350 species of fish from the region and around the world. The Waterfront Market takes pride in having a dedicated section for locally produced products, as part of a growing and determined effort to support and nurture the local F&B industry in the UAE.
In advance of the show, Chef Chris, resident chef at The Waterfront Market took center stage alongside President of the Emirates Culinary Guild, Chef Uwe Micheel to guide local industry chefs and members of the Emirates Culinary Guild on an exclusive, engaging and in-depth tour through the market. Highlights included identifying fish that are currently in season, whilst offering advice on how to choose the perfect fish. The tour included the fish cutting and cleaning section, which was followed by an interactive tour of the other three markets.
Mohammed Al Madani, Waterfront Market Manager, commented: "The team at The Waterfront Market are passionate about servicing the hospitality industry, with excellent produce at the best value across our four markets. We were honored to be able to host over 30 Chefs from across the UAE along with the Emirates Culinary Foundation and The Hotel Show Dubai, showcasing the best of what we have to offer."
Chef Uwe, President of the Emirates Culinary Guild, added: "I am very excited to see the creativity of the participating chefs at the Chef Tables Challenge next week at The Hotel Show Dubai. It's great to be working with The Waterfront Market. The market has a great selection of fresh fish and seafood that is readily available at our doorstep. Thanks to their state-of-the-art facility, they have the highest hygiene standards and temperature control protocols in place, ensuring health and safety standards are met."
The Hotel Show Dubai attracts suppliers of products, technology, and services that cater to the GCC's hospitality sector across interiors, lighting and design, technology, security, kitchen and laundry, and more. This year The Hotel Show Dubai will host five sector-focused conferences including The Hospitality Leadership Forum, HITEC Dubai, UAE Professional Housekeepers Group Meeting, THEME 2021, and The F&B Stakeholders Summit; as well as the renowned Housekeeping Challenge and The Chefs Table Competition. – TradeArabia News Service