Ghana's Black Starlets' dream of making it to the AFCON 2023 in Algeria gets underway today, June 11 when they take on Nigeria in the opening game of the WAFU B U-17 tournament at the Cape Coast Stadium at 4 pm.
The seven-nation regional tournament is scheduled from Saturday, June 11 to June 24, 2022 at the Cape Coast stadium.
READ ALSO: Black Starlets pitted alongside rivals Nigeria and Togo for U-17 WAFU Zone B
The Black Starlets have engaged in series of training matches and are unbeaten in eight matches ahead of the upcoming tournament.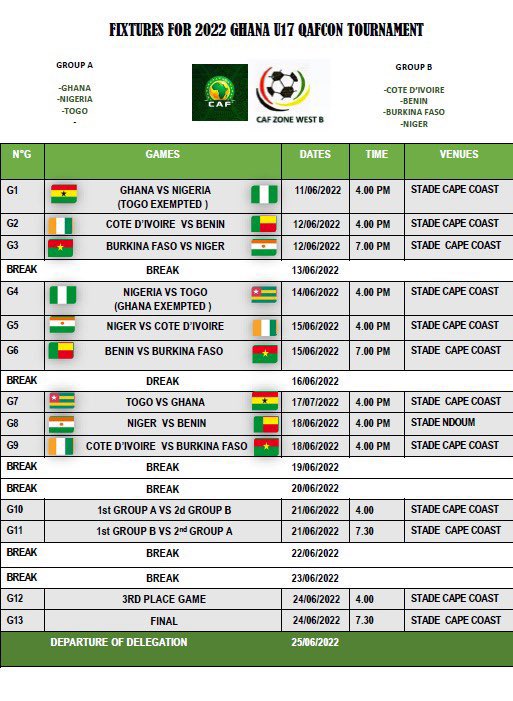 Coach Samuel Fabin is aiming to set a new height for the Starlets after missing out in the last two editions of the U-17 Africa Cup of Nations.
READ ALSO: WAFU U-17 Cup of Nations launched in Cape Coast
The Black Starlets are determined to qualify for the 2023 Africa Cup of Nations after crashing out at the Group stages in the previous edition in Togo.
The Mini regional competition which will serve as the qualification to the U-17 Africa Cup of Nations in Algeria in 2023 features seven countries, namely, Benin, Burkina Faso, Cote D'Ivoire, Niger, Nigeria, Togo and host Ghana.
The two finalists will automatically book their place at the 2023 U-17 Africa Cup of Nations in Algeria.
Meanwhile, Imax Group have secured the Television Production rights to broadcast the WAFU U-17 Cup of Nations.
Imax Group is a fully-owned Ghanaian private multimedia broadcasting organization that operates one television and two radio channels, namely: Max TV – A digital terrestrial free-to-air channel based in Accra and Max FM – (Accra)| Maximum FM (Takoradi).