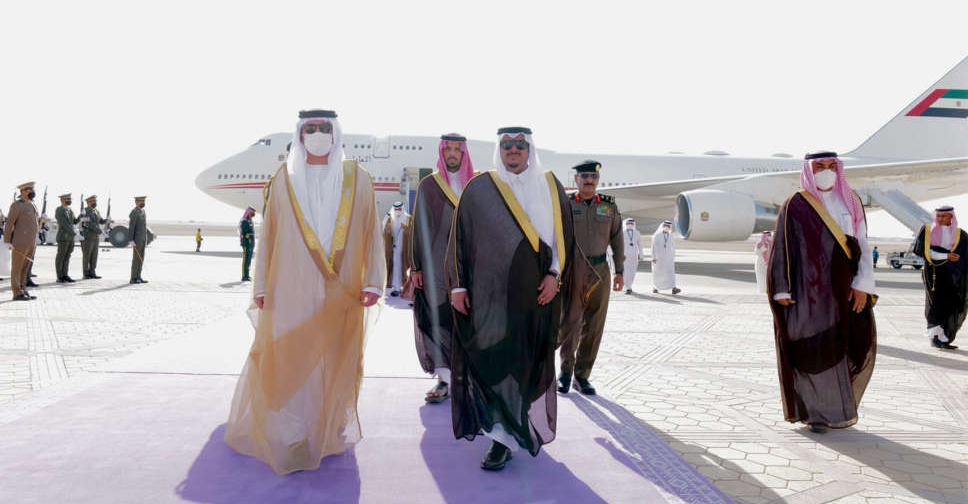 @DXBMediaOffice/ Twitter
His Highness Sheikh Maktoum bin Mohammed bin Rashid Al Maktoum, Deputy Ruler of Dubai and Deputy Prime Minister and Minister of Finance is heading the UAE delegation at 'The Middle East Green Initiative Summit' in Riyadh.
The summit aims to address environmental challenges, find effective solutions to overcome them, and support efforts to combat climate change.
It's an extension of the Saudi Green Initiative Forum and the ancillary event, Youth Green Summit, focusing on Saudi Arabia's climate pledges as well as the initiatives that will shape the country's sustainable future.
Sheikh Maktoum is accompanied by a high-profile delegation including Mohammad bin Abdullah Al Gergawi, Minister of Cabinet Affairs; Dr. Sultan bin Ahmed Al Jaber, Minister of Industry & Advanced Technology; Mariam bint Mohammed Almheiri, Minister of Climate Change and the Environment; Sheikh Shakhbout bin Nahyan bin Mubarak Al Nahyan, Minister of State, and Sheikh Nahyan bin Saif bin Mohammed Al Nahyan, UAE Ambassador to Saudi Arabia.
مكتوم بن محمد يصل على رأس الوفد الإماراتي رفيع المستوى المرافق لسموه إلى العاصمة السعودية الرياض، وذلك للمشاركة في أعمال قمة "مبادرة الشرق الأوسط الأخضر".https://t.co/XnXcgBD9jr pic.twitter.com/1tsRH7roJy

— Dubai Media Office (@DXBMediaOffice) October 25, 2021