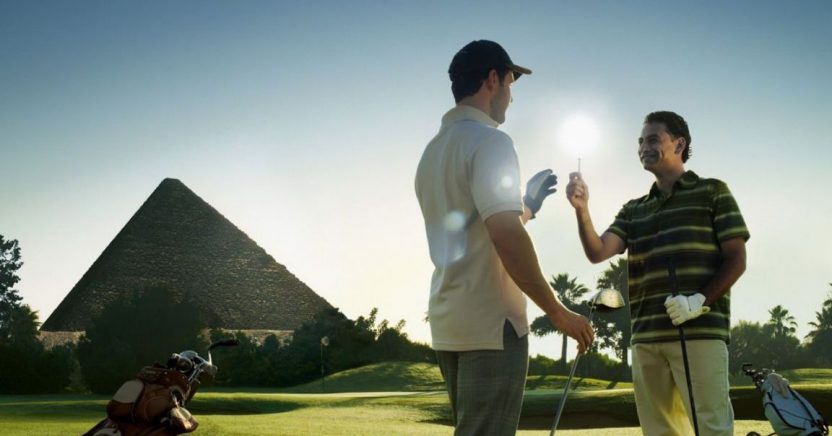 Egypt is becoming more and more popular as a golf destination. To travel to Egypt, a visa is required.
Egypt, the country of the pharaohs and towering pyramids, is primarily known for its rich history. Others instead like to relax at its luxurious seaside resorts. Yet the country is also becoming increasingly popular for sports enthusiast, and especially with golfers. Since Egypt is welcoming tourists again, all that is required for a trip to the country is a valid Egypt visa, and observing the covid rules.
Prime golfing by the Red Sea
Egypt is probably not the first country that comes to mind when thinking of premier golf destinations. When thinking about nice places for a bit of golfing abroad, one often thinks of countries such as Spain, Portugal, Turkey or the United Arab Emirates. Yet in recent years, Egypt is also becoming increasingly popular as a golf destination. The number of golf courses in the country is rapidly increasing to accommodate this growing interest, and currently they number over 20. The best ones can be found at the popular resort locations, for example in Hurghada, El Gouna and Soma Bay.
Most of the golf courses are located by the Red Sea and in the capital Cairo, some of which were designed by famous golf icons Gary Player and Fred Couples. The courses are well maintained, and due to their unique locations often offer views of mountains and crystal-blue water. After all, who doesn't want a nice bit of view while they are waiting their turn?
In additions, due to the pleasant temperatures and little rainfall, the climate is perfect for golfing virtually all year round. In the winter months in the west, when most people wouldn't think of going golfing, the temperatures at the Egyptian golf courses are nice and pleasant.
Current travel restrictions due to the coronavirus
Egypt was one of the first countries in the world to open its borders to foreign tourists, around August last year. However, this does not mean that everyone can travel to Egypt. As might be expected, the Egyptian authorities have implemented certain rules for arriving travellers:
Travellers over the age of 6 must carry a negative result of a PCR test in English or Arabic.
This test must have been carried out no more than 72 hours before departure (for travellers coming from London Heathrow, the test may be 96 hours old)
Travellers arriving at the airport of Sharm el Sheikh, Taba, Hurghada, Marsa Alam or Marsa Matrouh can also have a test taken at the airport itself. However, there may be long queues for this. Until the test results have been received, travellers must remain in quarantine.
All travellers must fill in a health form before departure and take it with them on their trip.
Although Egypt is once admitting foreign visitors, it is of course still illegal for British citizens to travel abroad for holidays, as per the rules of the British government. However, with the rapid pace at which vaccinations are progressing and the roadmap laid out by the government regarding relaxations of the rules, it is certainly not unimaginable to expect that travelling abroad in the summer will be possible again. And to do that, you will need a visa.
Egypt visa online application
The Egypt visa has the benefit of not needing a visit to the embassy to acquire it. Instead, it can be applied for online using a digital application form. There are, however, a few requirements that apply to usage of this online visa. These requirements include having a passport that is valid for at least 8 more months upon arrival in Egypt. In addition, you cannot stay in Egypt for longer than 30 days. The visa is granted on average within a week of submitting the application and uploading the required documents. You receive the visa by e-mail and only need to print it and take it with you on your trip.