Dubai –
Students from the Dubai Institute of Design and Innovation (DIDI), the region's only university exclusively dedicated to design and innovation, have been selected by global energy company Eni to showcase their circular economy concept, Wastology, at the Italian Pavilion at Expo 2020 Dubai.
The opportunity comes as part of a workshop led by Eni recently inviting students from the institute to present original ideas for the recycling component of Eni's installation at the Italian Pavilion at Expo 2020 Dubai.
Four teams from DIDI took part in the four-day Braiding the Future workshop and were tasked with proposing concepts to raise awareness about the United Nations Sustainable Development Goals. The jury assessed the proposals on five indicators: originality, potential impact, feasibility, prototype, and communication impact.
Wastology, the winning idea, is the design of DIDI students Sana Mohamed, Kaya Tueni and Dalilah Mansour. The idea allows food waste to be reused at home to grow and nourish indoor plants and raises awareness of circular economy initiatives. With one-third of the world's food lost or wasted every year[1], a kitchen gadget that turns household trash into compost treasure impressed a panel of judges that included Eni and the innovation and design firm, Carlo Ratti Associati.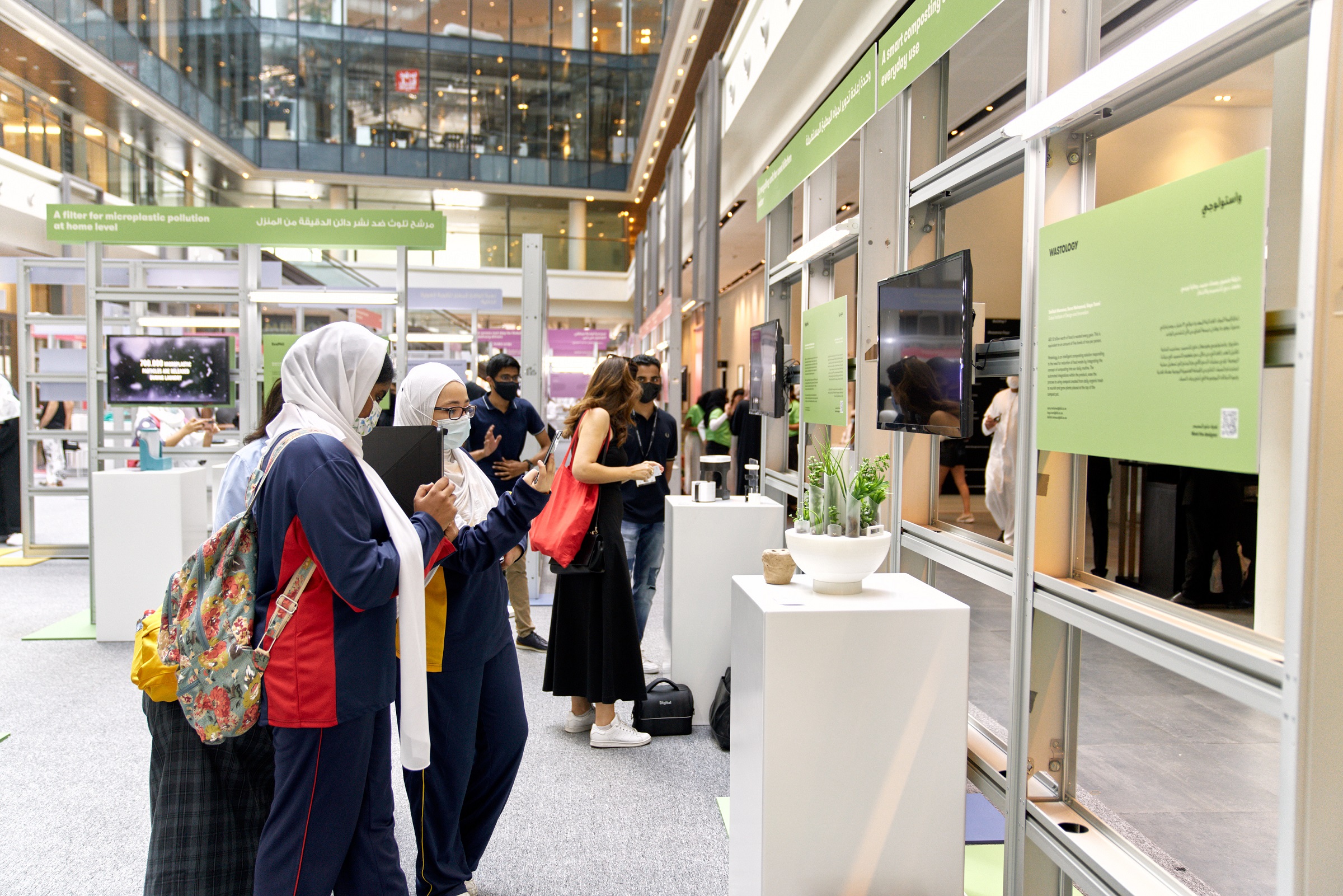 Eni's installation represents a commitment towards sustainable energy transition. The installation in fact gives an artistic interpretation of the intensified CO2 biofixation process that was developed in Eni Research Centers. It reinvents a microalgae cultivation system made of a cascade of 20-meters long LED vines suspended above water. Inside them the microalgae grow producing nutritional compounds giving social, economic and environmental benefits.
A physical prototype of Wastology had already been presented at Maker Faire Rome 2021 – The European Edition, last October 8-10, in line with its commitment towards sustainability as a lever for development and growth. In fact, since its very first edition back in 2013, Maker Faire Rome – Europe largest bottom-up and open innovation event – has been strongly promoting the centrality of design and creativity for the transformation of society and for supporting the Sustainable Development goals of Agenda 2030.
Maker Faire Rome had also acted as liaison between Eni and DIDI and help conceptualizing the workshop and its format.
Mohammad Abdullah, President of DIDI, said: "Using design and innovation to create a cleaner, greener future is an important part of our world class curriculum and wider efforts to prepare young people for the future of work. We were delighted to partner with Eni and Carlo Ratti Associati on the Braiding the Future workshop. It was an opportunity for our students to demonstrate how complex problem solving, creativity and critical thinking can be used to create scalable products that promote a transition to a circular economy. We are extremely proud of the winning project. It is testament to the quality of education we provide at DIDI and also demonstrates how Dubai is becoming a world-class hub for higher education."
Commenting on their winning design:
Kaya Tueni, a foundation student at DIDI, said: "I took part in this competition to get out of my comfort zone and see how well I could work under pressure. I knew from the start that no matter what the outcome of the competition, I would learn valuable skills beneficial for my future."
Dalilah Mansour, a Product Design and Strategic Design Management undergraduate at DIDI, noted: "This was my first-ever design competition. The brief was meaningful and pushed us to think holistically. The experience has given me so many meaningful learning outcomes."
Sana Mohamed, Product Design and Strategic Management undergraduate at DIDI, explained: "Brading the Future was such a rewarding experience. I am delighted that Wastology will be displayed at the Italian Pavilion at Expo 2020 Dubai and I would like to thank Eni, DIDI and the faculty for showing us how design and innovation can be used for the good of humanity."
DIDI was established to address the growing need for talented designers and innovators in the UAE and beyond. The university's curriculum was created in collaboration with the Massachusetts Institute of Technology and Parsons School of Design in New York and instils students with the confidence to take risks, push boundaries and challenge ways of thinking, making and co-creating.