Dubai, UAE – Feb 22, 2021 – Dubai's Leading language learning center at Amourion Training Institute has now launched French classes at Beginner, Intermediate and Advanced Levels. More than 300 million people speak French on 5 out of 7 continents and it is the second most widely learned foreign language after English. It helps one to understand new cultures, and forms a base if someone wants to learn other languages such as Italian and Portuguese. It does not matter if someone have never uttered a word in French, or are able to speak some broken sentences, it does not matter if they are a student, working professional, housewife, or stay-at-home dad, if the are passionate enough to learn, the course will help them immensely to acquire a new language skill.
French training in Dubai, a global city with global population and global trade and commerce, is not a difficult task but finding the best French tutors is one! Amourion has some of the best French teachers on board, one can find trainers who are native speakers and other teachers who have learnt and mastered French and have certificates of crossing high linguistics levels. Best French training in Dubai can be found only in institutes such as Amourion. They initially do either a verbal or written assessment, students will meet the tutor in-person or via a Zoom call where they understand the student's aspirations and objectives behind choosing French training, for example if someone is learning French for travelling or French for business? This meeting with the trainer helps them customize the course according to student's requirements.
Once the details have been shared and registration is done for the course, students will attend 10 sessions of 2 hours each, where depending on their level, the set syllabus will be taught. There will be continuous mini assessments taken throughout the course and a final test is conducted a week after finishing the French training. if students score well they will be issued a certificate of french proficiency.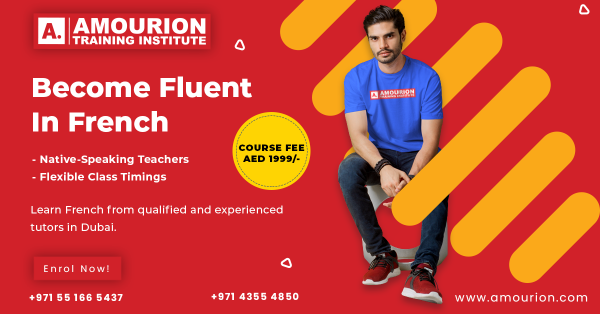 Amourion Training Institute is a KHDA accredited training center under Ministry of Education, providing different training services for both individual clients and corporates. They are located in the plush Al Moosa Tower 2, Sheikh Zayed Road, Dubai.
References:
Amourion Training Institute, 2021 https://www.amourion.com/course-details/french-classes-in-dubai
Contact Information:
Amourion Training Institute is headquartered at Sheikh Zayed Road, Dubai, UAE
Website: www.amourion.com
Name: Dr. Anil Khare
Email: [email protected]
Phone No: +971 4 355 4850 | +971 55 166 5437
Address: 1803, Al Moosa Tower 2, Sheikh Zayed Road, Dubai, UAE
Media Contact
Company Name: Amourion Training Institute
Contact Person: Dr. Anil Khare
Email: Send Email
Phone: +971 4 355 4850
Country: United Arab Emirates
Website: http://www.amourion.com