UAE telco Etisalat has announced a new data center in the city of Kalba.
The SmartHub Kalba facility – located in the northeast of the country – is Etisalat's third wholesale data center, following the opening of facilities in Fujairah and Dubai last year.
Built to Tier III requirements, the new facility is also selected to be the landing for the new Africa-1 subsea cable. The new facility is due to open by the first quarter of 2022.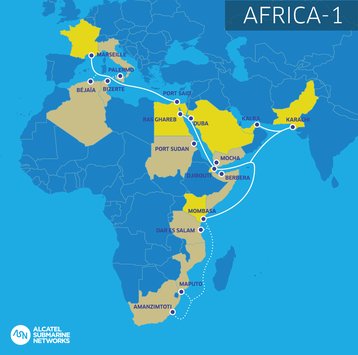 "As one of the biggest neutral carrier hotels, Etisalat's SmartHub data centers will be an ICT bridge between continents always supporting critical business activities of global customers," said Ali Amiri, group chief carrier & wholesale officer, Etisalat.
"SmartHub Kalba will enable us to increase our capabilities and global capacity to meet our international clients' expanding needs for infrastructure across Asia, Africa, Europe, Middle East, and the Americas. We at Etisalat are committed to making 'SmartHub' a preferred location for carriers, cloud service providers, Internet exchanges, and companies looking for carrier-grade data centers."
Spanning more than 10,000 km, the 8 fiber-pair Africa-1 cable will initially land in Kenya, Djibouti, Pakistan, UAE, Saudi Arabia, Egypt, France. Additional landings south to South African and in the Mediterranean are planned in the future. Commissioned by a consortium of Etisalat, G42, Mobily, Pakistan Telecommunication Company, and Telecom Egypt, and supplied by ASN, the cable is due for service by the end of 2023.
Elsewhere in the UAE, Moro Hub & Huawei recently announced plans to build a 100MW solar-powered data center on a Dubai solar farm, while Khazna Data Centres aims to increase its capacity in the state five-fold over the next four years.