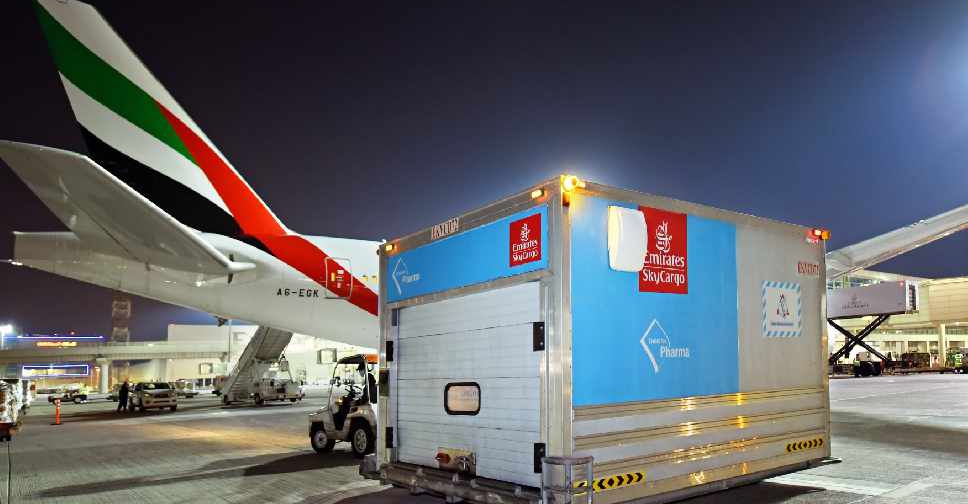 Supplied
One out of every 20 COVID-19 vaccine doses administered around the world has been flown on an Emirates aircraft and transited through Dubai.
Emirates SkyCargo, the carrier's air freight division, has been transporting the deliveries as well as other essential pharmaceutical, PPE and food supplies during the pandemic.
The airline has moved around 59 million doses of six different types of vaccines to more than 50 destinations around the world.
That's around 5 per cent of the total administered globally since last October.
Emirates SkyCargo has a dedicated GDP certified facility at its hub in Dubai used for storing and transporting the doses from manufacturing locations to six continents.
In January 2021, the division joined DP World, Dubai Airports and International Humanitarian City to form the Dubai Vaccine Logistics Alliance.
And in February, Emirates SkyCargo joined UNICEF to expedite transportation of the vaccines under the framework of the COVAX facility, aimed at equitable distribution of vaccines to global communities.
More than 200 tonnes of pharmaceuticals are transported around the world everyday by the carrier's aircraft.
One out of every 20 COVID-19 vaccines administered around the world has transited through Dubai on an Emirates aircraft. So far, Emirates SkyCargo has transported around 59 million doses of COVID-19 vaccines on its flights. https://t.co/WZXNm0s9rg #EmiratesSkyCargo pic.twitter.com/I9140HJwHk

— Emirates Airline (@emirates) April 27, 2021