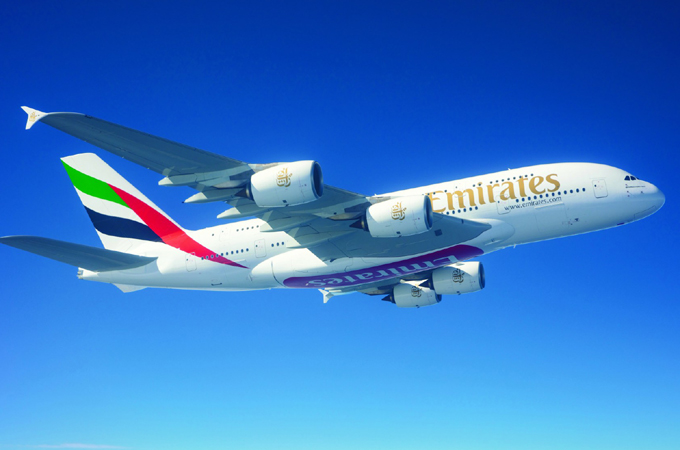 Emirates will provide more choice and comfort for its customers in Bahrain, with the introduction of the first scheduled Airbus A380 service during June.
This is the first time an airline operates the double-decker on a regularly scheduled basis to the Kingdom, and demonstrates the operational readiness of the new airport to provide the necessary infrastructure to accommodate for an A380 service, said an Emirates statement.
Flight EK 839/840, previously operated by a Boeing 777-300ER, has been upgraded to the flagship and customer favourite, the Emirates A380. The change of aircraft will help meet growing demand to and from Bahrain during the summer, and underscores the airline's commitment to make connections for travellers to and through Dubai even easier, it said.
In line with the start of A380 services, the airline is also offering special fares to popular destinations from Bahrain including Dubai, Istanbul and Maldives. Economy passengers can enjoy fares to Dubai starting from BD108, Istanbul from BD226 and Maldives from BD400. Fares in Business Class start from BD683 to Dubai, BD770 to Istanbul and BD1,063 to the Maldives, it said.
The offer is valid for booking from today (June 3) until June 30 for outbound travel until December 31, 2021.
Emirates flight EK 837 will depart Dubai daily at 1530hrs, arriving in Bahrain at 1550hrs. The return flight EK 840 leaves Bahrain at 1750hrs, arriving in Dubai at 2000hrs. The Emirates A380 aircraft will operate daily, in addition to an earlier morning service, EK837/838, served by a Boeing 777-300ER.
The Emirates Airbus A380 aircraft serving the Dubai-Bahrain route offers a total of 507 seats in a three-class configuration, with 417 spacious seats in Economy Class, 76 fully flat-bed seats in Business Class and 14 First Class Private Suites.
The Emirates A380 experience is sought after amongst travellers for its spacious and comfortable cabins and the airline will continue to expand its deployment in line with the gradual return in demand. Emirates currently operates the A380 to New York JFK, Paris, Jeddah, Amman, Cairo, Frankfurt, Bangkok, Guangzhou, Hong Kong and Moscow and will soon be deploying the aircraft to Los Angeles in July. –TradeArabia News Service