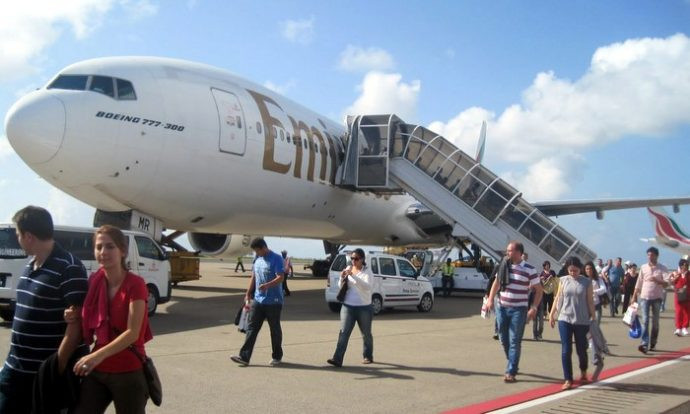 Since the beginning of the country's tourism-revival journey, Emirates has held the title of top airline bringing tourists into the Maldives, having flown over 59,000 tourists to the popular island destination so far this year.
Latest statistics publicized by the Ministry of Tourism revealed that with 644 flight movements since January 1 up until the end of March, Emirates has carried 59,689 passengers to the Maldives.
Into the beginning of a snail paced few months of low tourist arrivals since borders were reopened on 15 July 2020, Emirates topped the short list of airlines operating to the Maldives, which has since increased to 29 operational airlines.
Earlier this week, Emirates increased the frequency of flights operating to the island nation, to 28 from 24 weekly flights. This will be in effect until 18 April, and were implemented ahead of the Easter break. Emirates expects the boosted services to meet market demand to the popular holiday destination.
A number of international airlines are increasing flight frequency to the island nation, in light of the growing demand of visitors.
While Maldives discontinued issuing on-arrival visas on 27 March 2020, nearly four months later the government reopened borders for international travel, following which Qatar Airways was the first airline to commence flight operations to the island nation. Although having ranked second earlier, Qatar Airways dropped to third rank after Indigo amped up its game.
The airline currently ranks second with 620 flight movements and 38,918 passengers followed by Qatar with 520 flight movements and 32,294 passengers.
Other airlines operating flights to Maldives include:
Go Air with 596 flight movements and 35,751 passengers,
Aeroflot with 188 flight movements and 33,567 passengers,
Turkish Airlines with 110 flight movements and 13,540 passengers,
Fly Dubai with 224 flight movements and 11,686 passengers,
Lufthansa with 72 flight movements and 7,875 passengers,
Azur Air Russia with 26 flight movements and 6,882 passengers,
Austrian Airlines with 52 flight movements and 5,843 passengers,
Edelweiss with 58 flight movements and 5,505 passengers,
Condor with 52 flight movements and 5,355 passengers,
Etihad Airways with 140 flight movements and 4,901 passengers,
Sri Lankan Airlines with 229 flight movements and 2,327 passengers,
Air India with 56 flight movements and 2,327 passengers,
British Airways with 70 flight movements and 2,117 passengers,
Lot Polish Airlines with eight flight movements and 1,082 passengers,
Silk Air with 50 flight movements and 1,264 passengers,
Gulf Air with 30 flight movements and 496 passengers,
Air France with six flight movements and 166 passengers,
117 passengers touched down in Maldives on other airlines.
Singapore Airlines, which resumed flight operations to the Maldives on Tuesday, has also conducted two flights since resuming operations. The airline has carried 93 passengers to the Maldives.
Since borders were reopened the country's national airline, Maldivian has carried 7,669 passengers.
Further, Maldives recorded 22,224 out of the total of 298,570 visitors recorded thus far this year, having arrived in chartered international flights.
Some of the international airlines operating chartered flights to Maldives include Air Astana which has carried 7,362 passengers, Azur Air Ukraine with 4,477 passengers, Gullivair with 3,326 passengers, 2,425 passengers from Ukraine International, Uzbekistan Airways with 1,479 passengers. 509 passengers chose Air Vistara and 2,646 flew to Maldives through Scat Airlines.
Maldives welcomed 298,570 tourists within the first three months of the ongoing year. The country celebrated over 100,000 tourist arrivals in the Maldives during March, for the first time since border reopening. On Monday, 100,000th visitor from Egypt was given a warm welcome by the Ministry of Tourism, Maldives Airports Company officials as well as those from the Maldives Immigration. The tourist was awarded a bronze tier of the Maldives Border Miles initiative of the immigration department. The 100,000th tourist arrived via an Emirates flight as well.
Maldives aims to welcome 1.5 million tourist arrivals in 2021 and has kicked off promotional activities for the Golden Year of tourism, to be celebrated in 2022.