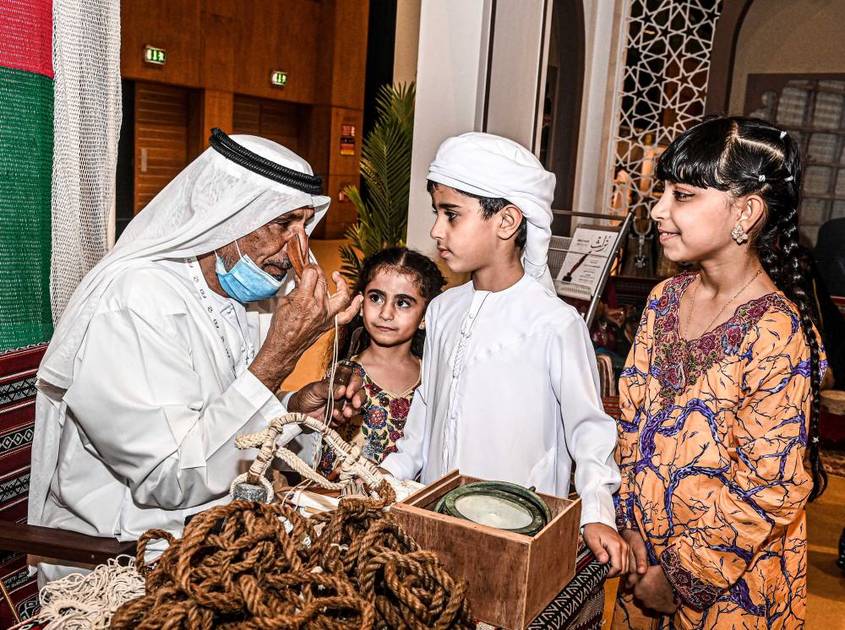 Yesterday morning, on the last day of the exhibition, the Emirates Heritage Club hosted a poetry session attended by Khalfan bin Noman Al Kaabi and Magda Al Jarrah. The Abu Dhabi Cultural Dialogue Sessions program concluded with a lecture on "Simultaneous Arabic thinking in (Arabic conversations)" presented by journalist Suleiman Al-Hatlan and moderated by author Jamal Al-Shehhi, and a lecture "Reading in the Book of the Book First Barrel of Wealth "presented by Dr. Salwa Al Nuaimi, a researcher on UAE history. And a lecture on "Modernist Curricula in Reading Heritage" presented by the critic and novelist Dr. Howaida Saleh. The closing day of the exhibition also witnessed two signing ceremonies for the book "The Guide to Emirati Governmental and Private Museums in the United Arab Emirates" written by Fatima Muhammad Omar, and the book "Doror in the Emirates" written by Fahd Al Maamari.
The club's participation in this exhibition came within the framework of its efforts to preserve the heritage of parents and grandparents, highlight the heritage as an authentic national identity, preserve it and convey it to the children and give them what strengthens their belonging to the children. homeland and loyalty to its wise leadership through publications, events and cultural heritage activities to spread awareness and hereditary ideas; To achieve the club's goals in a scientific and organized way.
As part of a series of seminars and lectures organized by the club's Zayed Center for Studies and Research in memory of the late Sheikh Khalifa bin Zayed Al Nahyan's biography, march and exploits, his soul must rest in peace under the name "Empowerment Stage Leader" program , the center organized a symposium entitled "Emirati Youth and Sports Empowerment and Entrepreneurship." And Achievements ", where the media adviser at the Al Bayan newspaper, Muhammad Al Joker, spoke, and it was moderated by the researcher at the Zayed Musallam Al Ameri Center. , and his role and contribution in the sports sector.
He also organized a lecture entitled "Culture in the era of the empowerment leader … Strategies and achievements" presented by the author and media personality Khaled Omar bin Qaqa, in which he listed the cultural achievements during the era of Sheikh Khalifa and emphasized that the UAE was capable of to achieve a major qualitative leap in all areas, especially in the cultural field. .