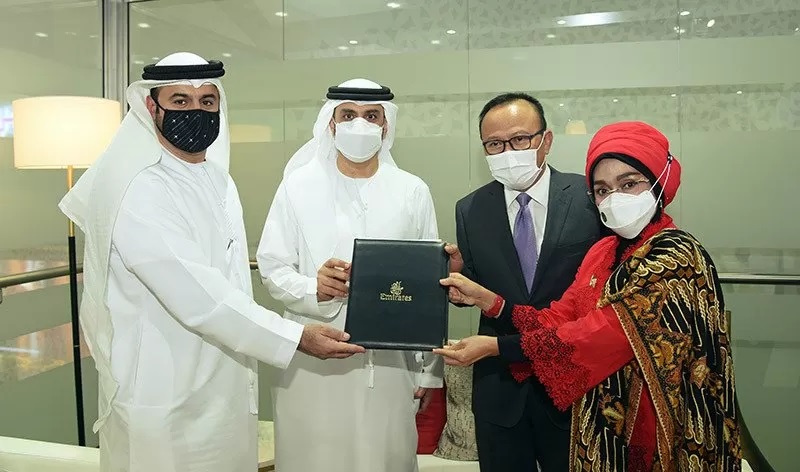 EMIRATES supports the Indonesian tourism industry through a Memorandum of Commitment (MoC) which outlines joint marketing activities to promote Indonesia.
This MoC was signed at the Arabian Travel Market 2021 by Deputy for Marketing of the Republic of Indonesia Tourism and Creative Economy Agency Nia Niscaya, Emirates Senior Vice President of Commercial Operations – Far East, Orhan Abbas. The signing was also attended by the Consul General of the Republic of Indonesia for Dubai and North Emirates K. Candra Negara and Chief Commercial Officer of Emirates Adnan Kazim.
Emirates in its official broadcast, Wednesday (19/5), said that Indonesia has had an important position in Emirates' global network since 1992. This time, the two parties will work together to campaign for the attraction of both parties to tourists.
Seeing the success of its long-term relationship and the success of the route to Jakarta and Bali, Emirates hopes to increase joint achievements to Indonesia, support the recovery phase as travel restrictions relax and make a valuable contribution to Indonesian tourism.
With this collaboration, both parties are committed to strengthening the relationship through collaboration on marketing strategies and initiatives that will highlight the special offers of each destination and have a positive impact on the tourism industry and economy.
The agreement will cover a wide range of marketing activities, including attendance at trade and tourism fairs, familiarization trips, product presentations and workshops, marketing campaigns and logistical support. All of these activities will be carried out by the Ministry of Tourism and Creative Economy and Emirates as Indonesia prepares to welcome foreign tourists back.
Since the pandemic, Emirates returned to operations to Jakarta in June 2020 and is now serving passengers on this route with daily flights operated by Boeing 777-300ER.
Emirates began operating in Indonesia by launching a route to Jakarta in 1992, the frequency of flights increased to twice a day in 2010. In 2015, the second destination in Bali was served by daily non-stop flights. In 2018, Emirates launched a direct flight service between Bali and Auckland in New Zealand. [antaranews]