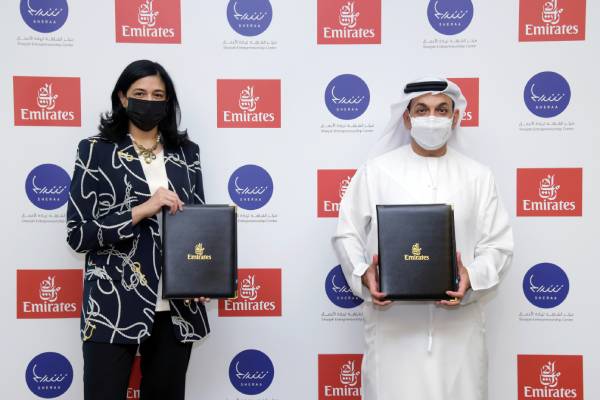 Emirates has signed a Memorandum of Understanding (MoU) with Sharjah Entrepreneurship Center (Sheraa) to strengthen and expand the entrepreneurship ecosystem in the UAE.
The agreement makes Emirates an official Strategic Partner of Sheraa, offering discounted fares to and from its network of over 90 destinations for the Sharjah Entrepreneurship Festival and startups relocating to the UAE through Sheraa's global soft-landing offering that provides an incentive package to facilitate entry for tech startups.
The MoU was signed by Adil Al Ghaith, Senior Vice President Commercial Operations, Gulf, Middle East and Central Asia and Najla Al Midfa, Sheraa's Chief Executive Officer.
Adnan Kazim, Chief Commercial Officer for Emirates Airline, elaborated on the new partnership: "Emirates has long been an avid supporter of innovative start-ups and initiatives within the travel and aviation ecosystem, and we are pleased to partner with Sheraa to support Sharjah and the broader UAE's efforts to create a vibrant environment for start-ups across a wide range of industries. The UAE has clearly established itself as a hub for innovation and ideas and the launchpad for high-potential start-ups, drawing in the brightest minds and talent from around the world to come and live and do business here, as well as scale their businesses to regional and global markets. We will be contributing to those efforts through attracting and connecting start-ups to the UAE with Sheraa across our network with the end goal of fostering innovation and stimulating valuable economic activity."
Speaking on the significance of the partnership, Najla Al Midfa, CEO of Sheraa, said: "We are pleased to welcome Emirates Airline as a Strategic Partner, opening up new avenues for collaboration across UAE's entrepreneurial ecosystem. This partnership reflects our belief that corporate stakeholders play a critical role in establishing Sharjah as a thriving entrepreneurship hub, by enabling innovation and supporting tech startups that can accelerate economic growth and diversification. Sheraa's community of enterprising founders will be able to capitalise on this exciting partnership to unlock access to global opportunities and scale their businesses to new heights."
As a part of the understanding between both organisations, Emirates will work alongside Sheraa as a Strategic Partner, both locally and across its international roadshows and events that aim to attract startups from across the world to the UAE. The partnership will also enable greater access to market opportunities for startups through supplier day engagements.
Emirates has been supporting Dubai and the wider UAE's innovation ecosystem to support young entrepreneurs and students since 2016, when it partnered with GE with and Etisalat to launch Intelak. Today Intelak includes a joint incubator, and Intelak hub, and both have served to create an innovative pipeline of ideas and initiatives for the travel and aviation industry in Dubai.
Since its inception, Sheraa has successfully supported 114 startups that have gone on to generate over $125 million in revenue, raise over $74 million in investment and create over 1,300 jobs. Sheraa recently launched the UAE's first government-backed startup studio, Sharjah Startup Studio (S3), to support ventures that are profitable, sustainable and solving real problems in the world. S3 goes beyond the traditional method of education-based programs, dedicating a team of experienced experts to work alongside founders and getting actively and operationally involved in the co-creation of their startups. – TradeArabia News Service