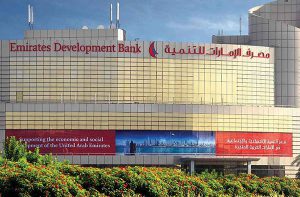 Dubai / WAM
Emirates Development Bank (EDB), the financial engine of the UAE's economic diversification and industrial transformation agenda, has announced its participation in Bonds, Loans & Sukuk Middle East, the region's largest gathering for the corporate and investment banking industry.
EDB is a Gold Sponsor of the event, which is taking place on 7th-8th June in Madinat Jumeirah, Dubai, and will be using the platform as part of its mission to engage with stakeholders in the investment and development community.
EDB will also be highlighting its unique role in the UAE financial sector. The bank is the first federal entity to be issued ratings by S&P and Fitch, and its focus is on maximising national economic impact and in-country value, allied with risk prudence, means it has been able to partner with economic freezones, chambers of commerce, departments for economic development and commercial banks to deploy AED1.52 billion to priority sectors in the last 12 months alone.
On the opening morning of the event, Ahmed Mohamed Al Naqbi, CEO of EDB, will deliver a keynote address in which he will outline how the bank's flexible financing solutions for SMEs and large corporates in key sectors are making a vital contribution to the long-term sustainable growth of the UAE economy – and how it is creating a new model for development banks across the Middle East. EDB will also be presenting its full range of financing products and services from Booth #3, inviting attendees to learn about how its long tenors, grace periods and preferential rates can help UAE companies expand, diversify and integrate new technology.
Commenting on the bank's participation, Al Naqbi said, "Bonds, Loans & Sukuk Middle East is the foremost event for the corporate and investment banking industry and, as such, provides an invaluable opportunity to reinforce our readiness, as the key financial engine of economic diversification and industrial development, to work alongside financial institutions, government bodies and development agencies to empower the national economy."
He added, "As we emerge from the pandemic and confront the new challenges of supply chain disruption and inflation, it's clear that the banking and finance industry have a significant role to play in accelerating economic recovery."
I look forward to participating in conversations on how we can work together to match the right solutions to the right opportunities – and ensure we continue to mobilise capital to benefit the national economy."
Also participating from EDB is Vivek Vohra, Head of Wholesale and Institutional Banking at EDB, who will join a panel discussion on Capital Expenditure (CapEx) versus refinancing. He will be joined by industry experts and stakeholders including Samer Haydar, Head of GCC Corporates at Fitch Ratings, and Karan Bansal, Senior Director of Origination and Investment Banking at Mashreq Bank.
Bonds, Loans & Sukuk Middle East Bonds takes place over two days in Dubai and hosts 70-plus speakers, 550-plus sovereign, corporate and financial institution borrowers and 200-plus investors and lenders – with 93 percent of the attendees at director level or above.