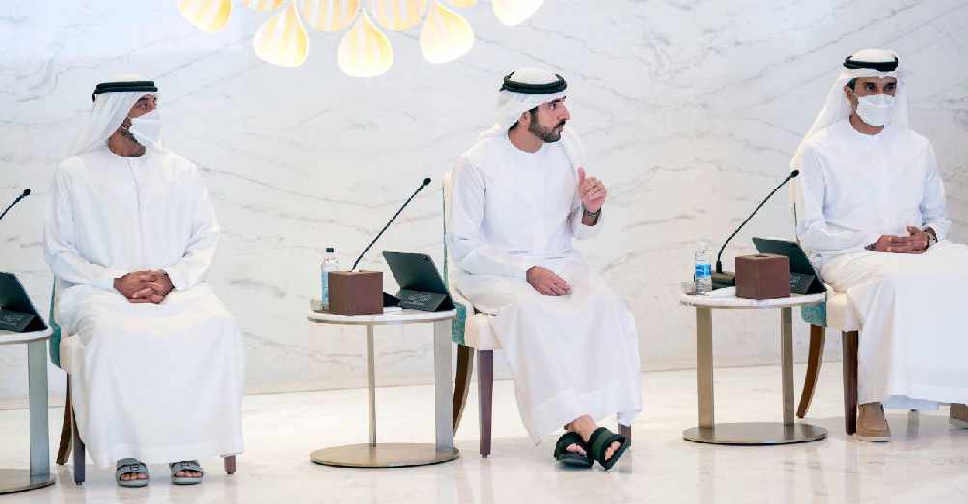 Twitter/(@HamdanMohammed)
Dubai will be offering COVID-19 vaccine to all official representatives of participating countries in Expo 2020.
That's according to His Highness Sheikh Hamdan bin Mohammed bin Rashid Al Maktoum, Crown Prince of Dubai and Chairman of the Dubai Executive Council, who made the announcement on Wednesday via Twitter.
عقدنا اجتماع المجلس التنفيذي لإمارة دبي اليوم في موقع إكسبو 2020 دبي.. ووجّهنا بتوفير اللقاحات اللازمة لجميع الممثّلين الرسميين للدول المشاركة في الحدث العالمي.. لضمان تجربة شاملة وآمنة لجميع المشاركين والزوار والعاملين… pic.twitter.com/7WNE8F3Nnz

— Hamdan bin Mohammed (@HamdanMohammed) April 7, 2021
This comes after Sheikh Hamdan held an official meeting at the Expo 2020 Dubai site.
In a series of tweets, the Crown Prince of Dubai clarified that the emirate has adopted a strategy for emergency medical services since the start of the pandemic.
"Our strategy is based on partnerships between the public and private sectors to ensure readiness and flexibility at times of health crises and disasters. The primary goal remains to provide health services to all with the best international standards," Sheikh Hamdan wrote.
واعتمدنا استراتيجية خدمات الطب الطارئ في إمارة دبي.. استراتيجيتنا تقوم على الشراكة والتكامل بين القطاعين العام والخاص لضمان الجاهزية الدائمة والمرونة للتصدي للأزمات والكوارث الصحية الطارئة.. ويبقى الهدف الأساسي تقديم خدمات صحية للجميع بأفضل المعايير العالمية..

— Hamdan bin Mohammed (@HamdanMohammed) April 7, 2021
"We also adopted the Dubai Food Security Strategy, which is based on diversifying sources, enhancing our local production, reducing food waste, and enhancing food safety in order to ensure a better life for the citizens and residents of Dubai," he continued.
كما اعتمدنا استراتيجية الأمن الغذائي لإمارة دبي.. التي ترتكز على تنويع المصادر وتعزيز إنتاجنا المحلي والحد من الفقد والهدر وتعزيز السلامة الغذائية.. لضمان حياة أفضل للمواطن والمقيم في دبي…

— Hamdan bin Mohammed (@HamdanMohammed) April 7, 2021
In the executive council meeting, Sheikh Hamdan highlighted the comprehensive plan created to ease transportation in the emirate, which will serve more than 1.5 million people in the short term.
"Our goal is to develop an integrated transportation infrastructure and make Dubai one of the world's most environmentally friendly cities and most accommodating for people of determination," he said.
واعتمدنا الخطة الشاملة للتنقل المرن في دبي التي ستخدم أكثر من 1.5 مليون نسمة من السكان على المدى القصير.. هدفنا تطوير بنية تحتية متكاملة للمواصلات وجعل دبي من أكثر المدن العالمية الصديقة للبيئة ولأصحاب الهمم..

— Hamdan bin Mohammed (@HamdanMohammed) April 7, 2021