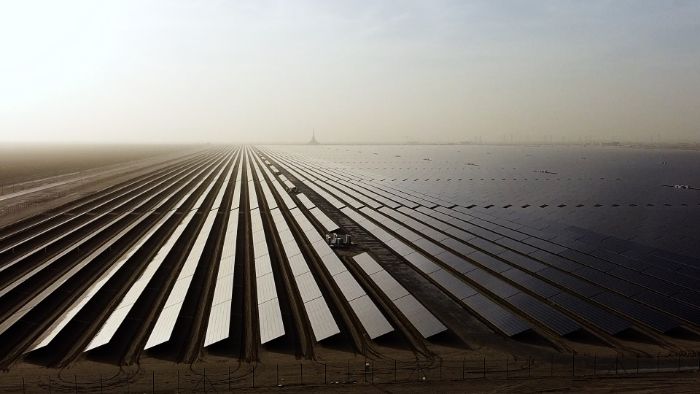 8 Jun 2021
The installed power generation capacity in Dubai has reached 12.9GW, a tenfold increase on the 1.2GW installed by the end of the 1990s. Dubai Electricity & Water Authority (Dewa) also revealed that installed desalination capacity has reached 490 million imperial gallons a day (MIGD)
The installed power generation capacity in Dubai has reached 12.9GW, a tenfold increase on the 1.2GW installed by the end of the 1990s.
Dubai Electricity & Water Authority (Dewa) also revealed that installed desalination capacity had reached 490 million imperial gallons a day (MIGD).
Installed power generation capacity is expected to increase to 13.2GW in July 2022 with the commissioning of the first 300MW of the 900MW fifth phase photovoltaic (PV) solar project at the Mohammed bin Rashid (MBR) solar park.
Renewable energy is set to play an increasingly major role in power production in Dubai, with the emirate aiming to produce 75 per cent of its power from clean energy sources by 2050. The emirate is targeting for 25 per cent of its energy to come from clean sources by 2030, with 5GW of solar capacity due to be installed at the MBR solar park.
The most recent phase of the MBR solar park, phase 5, reached financial close in September 2020. The $564m project is being developed by a consortium led by Saudi Arabia's Acwa Power.
Dewa signed the power purchase agreement (PPA) with Saudi Arabia's Acwa Power for the 900MW fifth phase project in April. The PPA was signed for a levelised cost of electricity (LCOE) tariff of $cents1.6953/kWh, one of the lowest PV solar tariffs in the world.
In July 2020, Acwa Power appointed China's Shanghai Electric as the engineering, procurement and construction (EPC) contractor for the project.
Want more Energy & Utilities insight?
Free energy tutorials at your fingertips this May and June with Middle East Energy Online
Be confident in finding the inspiration you need to navigate the energy evolution. Be energised by 40 hours of free virtual seminars, tech demos, case studies and thought leadership, to help you find the answer to your project challenges, only through Middle East Energy 2021. Plus, discover over 150 renewable and clean energy, transmission & distribution, critical & backup power and energy consumption & management suppliers and solution specialists, from solar and green hydrogen to automation solutions, EV controls, plus switchgears and components.