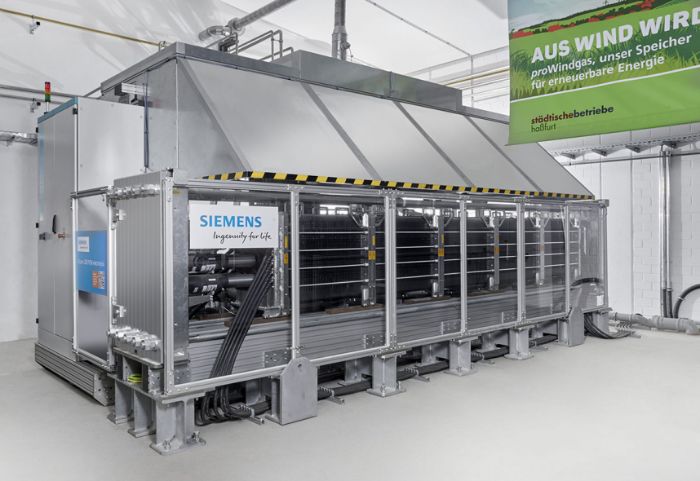 20 May 2021
Germany's Siemens Energy, in collaboration with state utility Dubai Electricity & Water Authority (Dewa) and Expo 2020, has commissioned the first industrial scale solar-powered green hydrogen facility in the Middle East and North Africa (Mena) region
Germany's Siemens Energy, in collaboration with state utility Dubai Electricity & Water Authority (Dewa) and Expo 2020, has commissioned the first industrial scale solar-powered green hydrogen facility in the Middle East and North Africa (Mena) region.
The pilot project is located at Dewa's outdoor testing facility of the Research and Development (R&D) Centre at the Mohammed bin Rashid (MBR) solar park in Dubai.
The facility contains electrolysis, storage and re-electrification capabilities. Daylight solar power from the MBR park will allow the plant to produce 20.5kg/hr of hydrogen at 1.25MW of peak power. Operational data from the green hydrogen electrolysis facility will be displayed at Expo 2020, which is due to start in October.
"This pioneering project which we have implemented with our strategic partner Siemens Energy is a role model for strategic partnerships between the public and private sectors. Through this pilot project Dewa aims to demonstrate the production of green hydrogen from solar power, its storage and re-electrification. This is a system that allows for buffering renewable energy production, both for fast response applications, as well as for long-term storage. The plant has been built to accommodate future applications and test platforms for the different uses of hydrogen, including potential mobility and industrial uses," Saeed Mohammed al-Tayer, MD and CEO of Dewa, was quoted in a press statement accompanying the inauguration of the plant.
"Dewa has already explored and developed a pilot project for green mobility using hydrogen that can be executed in the near future, in addition to a number of studies, business strategies and a potential roadmap for hydrogen usage. DEWA is building know-how, experience and capabilities to contribute in shaping the clean hydrogen future of the UAE."
Manuel Kuehn, Head of New Energy for Middle East and Africa, Siemens Energy, previously discussed the reasons why green hydrogen can be the game changer for the energy transition.
Want more Energy & Utilities insight?
Free energy tutorials at your fingertips this May and June with Middle East Energy Online
Be confident in finding the inspiration you need to navigate the energy evolution. Be energised by 40 hours of free virtual seminars, tech demos, case studies and thought leadership, to help you find the answer to your project challenges, only through Middle East Energy 2021. Plus, discover over 150 renewable and clean energy, transmission & distribution, critical & backup power and energy consumption & management suppliers and solution specialists, from solar and green hydrogen to automation solutions, EV controls, plus switchgears and components.