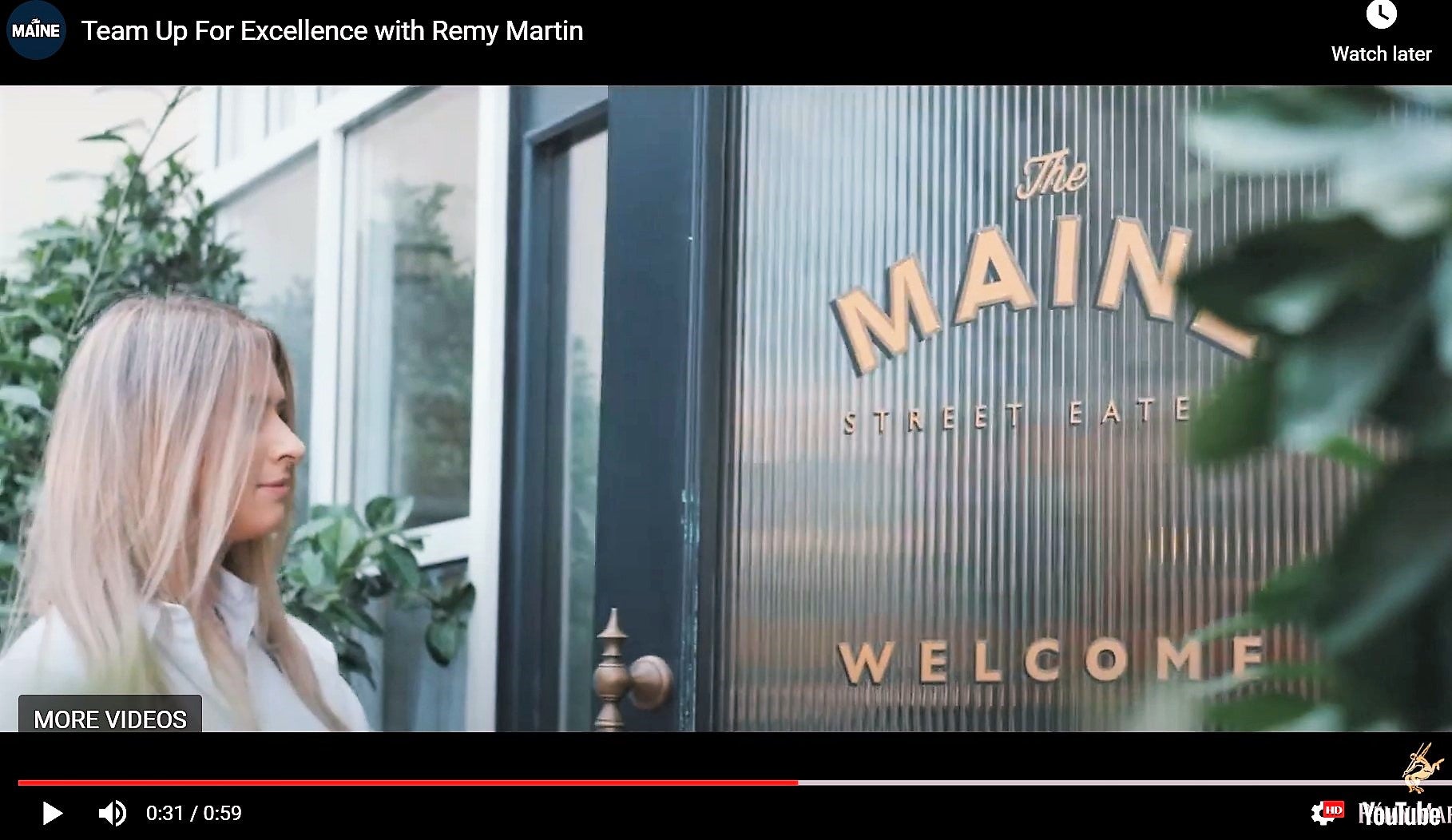 It's tourism season, and demand is high for all things Maine, including reservations at three swanky restaurants — in the United Arab Emirates.
If you can't make it to one of The Maine eateries in Dubai, you may want to try a fourth that's set to open this fall. In London.
The Maine is the brainchild of an international gastropreneur, Joey Ghazal, who launched the first eatery in 2014 through his company, Pine Tree State Trading Co. Ghazal's restaurants (and a taco truck) go by a familiar slogan: "The way life should be."
"I would say that the New England-inspired aesthetic of the brand really appeals to the laid-back attitude of the crowd here," he told Mainebiz recently from Dubai, via email.
Ghazal, described by an international hospitality magazine as "the fourth-most powerful restaurateur in the Middle East," isn't the only businessperson leveraging the state's name and brand.
From a consulting firm in South Africa to the largest producer of fresh eggs in the U.S., seemingly unlikely companies are cashing in on the Maine identity.
There's a Maine for that
It's common for "Maine" and nicknames of the state to be used by businesses, including Mainebiz, that operate here. The name also lends itself to wordplay and countless puns. For instance, Mainely Tubs, the Scarborough-based business that began in 1978 and now is expanding in New Hampshire.
But Maine's monikers are also popular in unexpected places, among companies that seem to have little connection to the Pine Tree State. Trademark data provide some examples.
There are 514 federally registered trademarks using the word "Maine," according to a U.S. Patent and Trademark Office database search on Wednesday. That's more trademark uses than the names of states with much larger populations and business hubs, such as Pennsylvania, Illinois, Massachusetts and Connecticut.
Per capita, Maine lends its name to more trademarks than almost any state — ranking No. 4 nationwide, with 37.7 trademarks for every 100,000 residents. Only Alaska, Hawaii and Vermont rank higher.
The state whose name is most commonly trademarked: New York, with 4,459 of them. But that state ranks only sixth per capita, with 22.1 trademarks per 100,000 residents. Massachusetts ranks last, with three per 100,000.
Maine's trademarks outnumber those of New Hampshire, a state roughly similar in population and other characteristics, by more than five times. The Granite State ranks No. 37.
Graphic / Matt Selva
The number of federally registered trademarks using the word "Maine" is higher than that of many states, as the top graph illustrates. On a per capita basis, Maine's popularity as a trademark is even more noticeable. The state lends its name to 514 marks, or 37.7 per 100,000 residents.
Among the "Maine" trademark holders, there are well-known businesses including Tom's of Maine, the Kennebunk-based maker of organic personal care products. Other trademarks belong to lobstering businesses that tout their Maine sourcing.
The state's name is also found in the trademarks of:
Maine Bay, a brand of men's clothing registered to Massachusetts-based retailer Filene's Basement
Maine-Aise, a maker of (you guessed it) mayonnaise, registered in New York
The Maine, an alt-rock band from Arizona with eight albums and rights for using the name in "entertainment services" and on concert T-shirts.
A Maine branding expert, Nancy Marshall of Augusta-based Marshall Communications, believes businesses seek out the state's name because it evokes more than a place on a map.
"It's a one-syllable word, and people equate it with purity and simplicity, even if we know that's not always the way Maine is," she told Mainebiz. "For many people, even if they haven't been here, they have a notion of what 'Maine' is."
Making your mark with 'Maine'
In fact, the suggestive power Marshall describes — the qualities the Maine brand evokes — can help create a distinctive business identity instead of an ordinary business name.
When a place word merely describes geography, such as a business location or sales territory, the term is difficult to register as a trademark, explains attorney Matthew J. Curran.
But use a place word because it says something about the essence of your business, and you may have better luck.
Photo / William Hall
Shops like this one in Portland's Old Port District frequently use the Maine name.
The federal government generally won't allow place words as a registered trademark if they are too geographically descriptive, according to Curran. Only about 10% of registered trademarks include such words, he said. There are currently 900,000 registered marks in the U.S.
"Trademarks are really for the benefit of consumers. The government is concerned with avoiding consumer confusion," Curran told Mainebiz in an interview.
Names will also be turned down for registration if they are geographically misleading, he said. It's not illegal for a company without a connection to Maine to adopt that name, but the company may find it tough to secure a trademark registration.
"There are plenty of people who try to use trademarks inappropriately, to suggest they're from someplace they're not."
Curran specializes in trademark and patent law, as does the firm where he practices. And despite its location in Nashua, N.H., the firm itself utilizes the Maine brand.
Courtesy / MC&R
Matthew J. Curran
The 12-person practice is known as Maine Cernota & Rardin. Vernon Maine, 74, founded it in 1993, and admits there can be a slight downside to its identity.
"We do get contacted by people who are looking for legal services in Maine," he told Mainebiz. "We get some random calls."
But at least the chance of potential mix-ups isn't as great as in his previous line of work.
Before entering law school, he explained, he operated a home building business about 45 minutes away. "I had a sign that read, 'Vern Maine — Vermont Log Homes — Weare, New Hampshire,'" he said with a laugh. "Three states, one sign. People would scratch their heads."
Maine murkiness
Another business whose name borrows from a Maine one is Cal-Maine Foods Inc. (Nasdaq: CALM), which is based in Mississippi and the country's largest producer of fresh shell eggs. Cal-Maine produced over 12 billion of them last year, representing 19% of all U.S. egg consumption, according to the company's annual report. Revenue totaled nearly $1.4 billion.
The company takes its name from the 1969 merger of a California producer and Maine Eggs Farms, of Lewiston, and for a while continued operations in both states. Today it does business in neither.
Other ties to Maine are murkier. Consider Maine Inc., an accounting and consulting firm currently led by two former directors of PricewaterhouseCoopers and headquartered in Mmabatho, South Africa, according to the Maine Inc. website. The site doesn't explain the name of the firm, which didn't respond to an inquiry from Mainebiz.
Then there's a business that take its name from a Maine synonym. Downeast Outfitters Inc. is a fashion and furnishings seller based in Salt Lake City, and operates more than 40 stores in Arizona, Idaho, Nevada and Utah. The company offers "classic options" known for "great quality and affordability," it says in its marketing.
But Downeast, which began 30 years ago in Utah, 2,500 miles from Downeast Maine, doesn't explain the reason for its name. The company refused to answer repeated requests for comment from Mainebiz.
Back in Dubai, The Maine's Maine ties might also seem questionable. While Ghazal calls his restaurants "a New England brasserie company," they're a far cry from even the highest-end Portland eatery.
Courtesy / The Maine
The interior of one of the three Maine restaurants in Dubai.
"Think decadent chandeliers," he said. Catering to the UAE's wealthy elite and international trend-setters, The Maine features menu items such as a New York sirloin steak for 875 dirhams — $238. A whole Maine lobster goes for $84.
The Maine Mayfair, as the London restaurant is called, will have 350 seats, spread through five rooms and three floors inside a restored, centuries-old Georgian townhouse. Ghazal told Mainebiz the project will create "an immersive clubhouse experience" and represent "the evolution of the restaurant brand into more of a lifestyle brand and the introduction of New England to the world."
Authenticity counts
But Ghazal, listed by Esquire magazine as one of the "Best Dressed Men in the Middle East," is no stranger to Maine.
Born 42 years ago in Montreal, he and his family often vacationed in the state when he was growing up.
"My parents would pack us in the back of their station wagon and we would spend a few weeks in Kennebunkport and Old Orchard, driving up and down the coast, overdosing on clam chowder, lobster rolls and corn on the cob," he said. "My time in Maine is the source of my love of seafood and it has always had a very special place in my heart."
Today, he sources seafood from Maine when he can. "I wish we could do a lot more Maine product, but the limitations and logistics are prohibitive," he told Mainebiz.
He's also visited Maine fisheries and seafood businesses, including Highroller Lobster Co. in Portland and lobster wholesaler Maine Coast in York.
"Vacationing in Maine as a child is very different from visiting as an adult and a business owner," he said. "I particularly enjoyed seeing what's going on behind the scenes. The state deserves a lot more attention on the international stage."
Courtesy photo
Joey Ghazal
Those type of real-world connections are what creates a successful Maine brand, according to Marshall.
"You can't just slap the word 'Maine' on your brand and then all of a sudden become L.L.Bean," she said. "Maine is authentic. People know and trust Mainers, and that's a big part of the brand."
Marshall advises businesses, wherever they're located, to walk the walk. "Know your audience. Be authentic, be real," she said. "Don't just say you're from Maine. How does your story tie into Maine? Elaborate on that."
Curran, the trademark expert, suggests that "Maine" businesses use that identity frequently and consistently. "It's your assertion to the world that you own it. The earlier and the more you use it, the more protection you'll have."
Marshall echoed the trademark advice, and said, "Using the Maine name is a privilege. Don't use it lightly. It has a lot of value, and you have to live up to that."