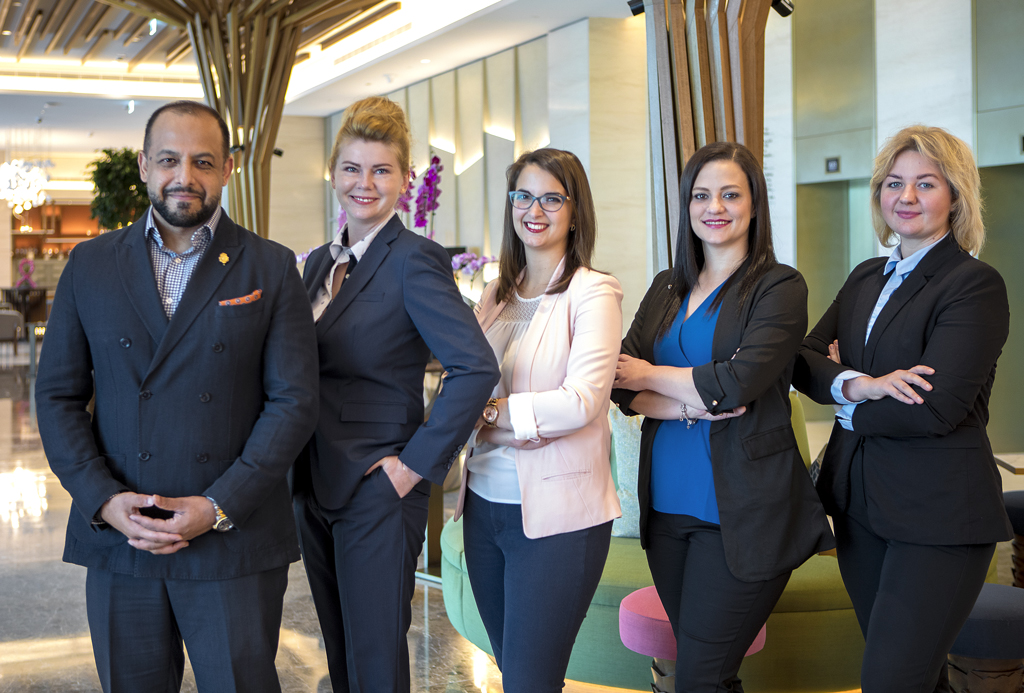 DoubleTree by Hilton Sharjah Waterfront Hotel and Residences has announced its leadership team as it gears up for its hotly anticipated opening later in October 2021.
The multi-national team, led by General Manager Vikram Jamwal, features a broad range of industry talent with strong female representation, from countries spanning Ukraine, Germany, Switzerland, South Africa, and Russia.
With women accounting for 60% of the leadership team, some noteworthy appointments include Fatuma Abdul as the first female Head of Security at Hilton in the UAE, Amna Alraeesi as the first Emirati Sales Lead at Hilton in the UAE, and Nadia Kaser heading up a 100% female Commercial Team.
Jamwal, a German national of Indian origin has a wealth of industry experience across the European, African, Asian and Middle Eastern markets – most recently he served as General Manager at Hilton Durban, South Africa.
Katia Kosynska, Front Office Manager, previously worked at Waldorf Astoria Ras Al Khaimah and Hilton Doha before joining Hilton Seychelles Northolme Resort & Spa.
Kaser has worked across three continents for various brands over the last decade. Liana Julius, Executive Housekeeper, previously worked at Hilton Durban, South Africa—and Natalia Krutova, F&B Manager, has over 11 years of experience in the food and beverage sector. Collectively, the leadership team brings more than 65 years of hospitality experience.
The DoubleTree by Hilton Sharjah Waterfront Hotel and Residences team is truly multi-national, with the wider hotel team hailing from over 30 countries and speaking an impressive 20 languages. With the opening just a few weeks away, excitement is building amongst the team who are looking forward to welcoming their first guests to the stylish property. — TradeArabia News Service