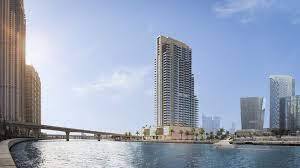 The launch of the prestigious development project costing AED 800 million marks two important firsts for the two companies: Dar Al Arkan's first regional expansion in the UAE, and the Arab world's first design by the fashion brand MissoniHome Customized Missoni style living space.
Urban Oasis is located in the city center, directly beside the Dubai Canal, close to the center of Dubai. The luxurious residences of Urban Oasis offer magnificent views of the Dubai Canal, making this tower a true urban oasis in the bustling city. The construction of the tower is underway and is expected to be completed before the end of 2023.
Said Ziad El Chaar, Vice Chairman of Dar Al Arkan Real Estate Development Company"The project is located in one of the most sought-after locations in the city, and we are delighted to have our first flagship development project in the UAE. Cooperation with Missoni clearly demonstrates our continued commitment to provide the highest standards for our customers and investors Luxurious life."
Missoni CEO Livio Proli said: "We are excited to work with Dar Al Arkan on our first urban oasis project in the region, and are excited to be able to provide these incredible apartments with the best fabrics and Miami-inspired design, which will provide residential Provide a unique and original finish."
The stunning Urban Oasis consists of 38 floors, two- and three-bedroom apartments, and four-bedroom penthouses. The interior design comes from MissoniHome.
The unique penthouse is equipped with high-end Missoni fixtures and decorative elements. The perfectly designed apartments come in different sizes, offering a unique five-star standard of living, incredible waterfront views and enclosed kitchens.
Residents can also use luxurious facilities and services such as swimming pools, children's play areas, parking lots, fully equipped gymnasiums, and 24/7 reception and security services.
The expansion of the Dar Al Arkan brand to the international market is a testament to the success of Saudi companies in providing unique projects in new markets.