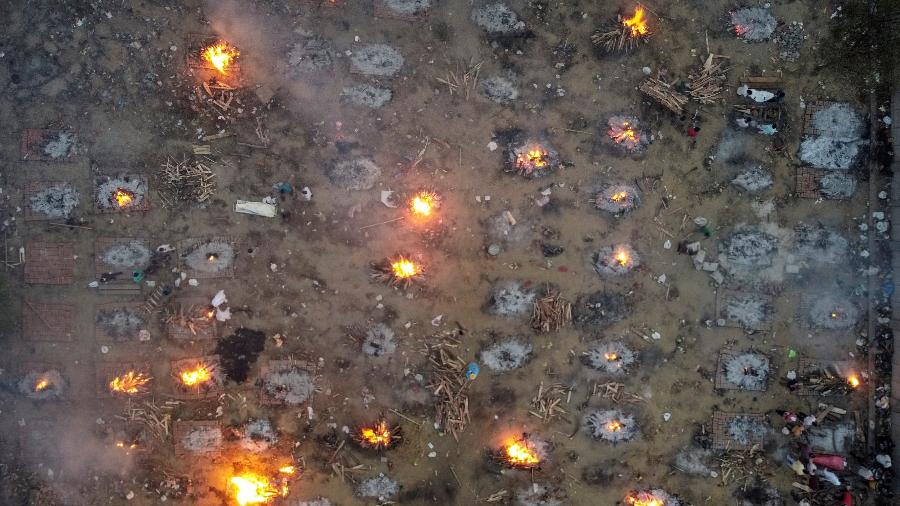 India is going through the most delicate moment since the beginning of the new coronavirus pandemic. The country has broken a new record of daily covid-19 cases: 314,835, the highest number so far, according to data from the Indian Ministry of Health. In the same period, the country recorded 2,074 deaths, bringing the number of deaths to almost 185 thousand.
The situation puts pressure on the health system and also the country's cemeteries and crematoriums. A crematorium in the capital New Delhi held a mass cremation due to the high number of bodies of victims of the covid-19. Another crematorium in Muzaffarpur, East India, said it was getting overloaded with bodies and that bereaved family members had to wait for their turn.
Some doctors are advising patients to stay at home and there are reports that New Delhi hospitals are running out of oxygen. Authorities from neighboring states are preventing supplies from being brought to the capital to preserve them for their own needs, said the city's deputy chief minister, Manish Sisodia.
Due to the situation, Emirates, the main airline of the United Arab Emirates, suspended flights to India for 10 days, from April 25 to May 4. In the United Arab Emirates, the entry of Indians by other companies will be allowed only if it is proven that the person has been in another country for at least 14 days.
Earlier this week, the UK added India to its red list of countries. As a result, Indians will not be able to enter the UK after 8:30 am (India time) tomorrow.
Despite the extensive vaccination program against covid-19 launched in the country, only a tiny fraction of the population has already been immunized. Authorities have announced that vaccines will be available to everyone over 18 years of age from May 1, but the country will not have enough doses for the 600 million qualified inhabitants, experts say.
* With Reuters
Related