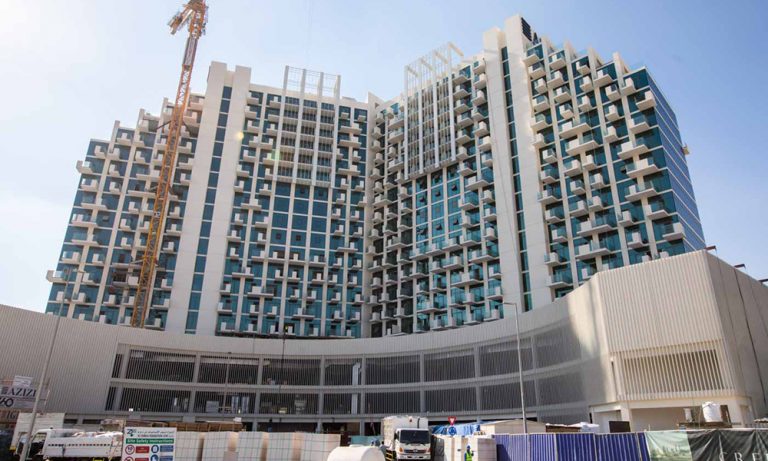 The implementation of the Creek Views I, a mixed-use development project located within the Dubai Healthcare City (DHCC), a healthcare free economic zone situated in the Emirate of Dubai, United Arab Emirates, is almost complete according to the developer, Azizi Developments.
The leading developer based in Dubai with an extensive portfolio of modern luxury residential and commercial properties across the emirates explained that the majority of the construction works including the blockwork, internal plastering, and structural works, are already concluded.
Search for construction leads
Also Read: Masaar Megaproject in Dubai, UAE: Contracts Awarded for Construction of First Residential District
The project, which in percentage is approximately 95% complete, is expected to be handed over by the second quarter of this year.
Creek Views I offers the finest modern luxury
The Creek Views I features 218 one-bedroom apartments, 20 two-bedroom apartments, as well as 396 studios alongside 33,341 square feet of premium retail space. The units are built and designed to offer modern luxury at their very finest.
The project is set to also feature an inclusive health club that includes a fully equipped gym, a swimming pool, a serene outdoor yoga space, a yoga space as well as a steam room. The project's location is right on Al Khail road which is a couple of minutes away from Dubai Mall, Business Bay, and DIFC as well as Dubai International Airport. This means that it has got access to all major leisure, retail, and business hubs located within the city.
The CEO of Azizi Developments, Farhad Azizi, expressed his gratitude to all stakeholders that are involved in the world-class Creek Views I project. He acknowledged their coming together as a contribution to helping the company achieve rapid and quality construction. He also revealed that due to its elegant and unique feel, the project is in demand from both local and international or rather foreign investors.
Farhad concluded by stating that the company looks forward to the completion of the project within the next following months.