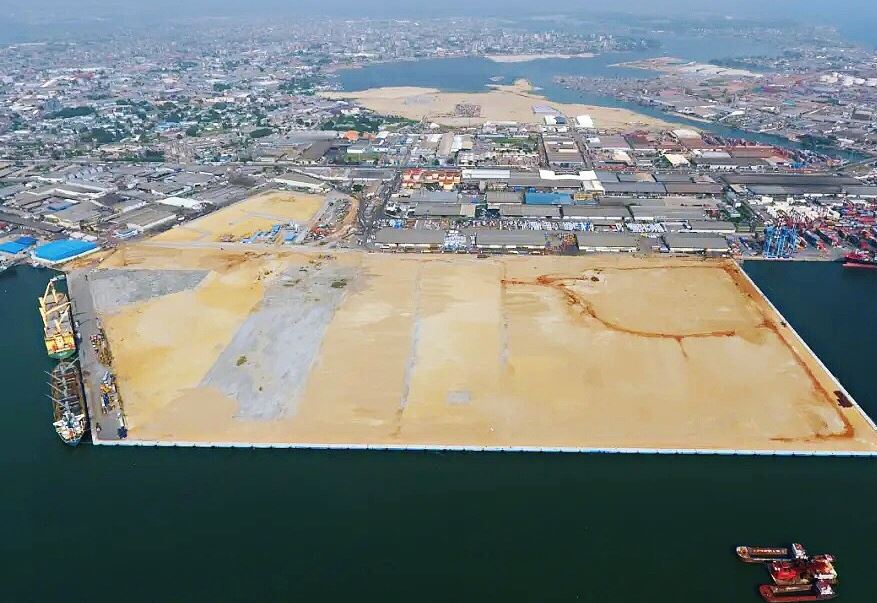 The ongoing construction works of Côte d'Ivoire Terminal (CIT), the second container terminal at the Port of Abidjan in the Ivory Coast, are set to be completed in July next year (2022) after approximately 22 months of construction.
This is the assurance given by Bellerose Pierre, the regional director of Bolloré Logistics (the company developing the project alongside APM Terminals). Pierre was speaking on behalf of the concession company, during the site inspection visit by the Ivorian Minister of Transport, Amadou Koné.
He said, "Despite the many constraints brought about by the Covid-19 pandemic, we are still on the right track. To meet the 18-month deadline, we have increased our workforce. We have more than 150 people working 24 hours a day on the site and we plan to deliver the work by July 2022.
An overview of the terminal
Covering an area of ​​37.5 hectares, the terminal is being constructed by China Harbor Engineering Company (CHEC), a China Communications Construction Company subsidiary, adjacent to the existing Abidjan Terminal.
Upon completion, it will have a maximum draft of -18 meters which means that its 1,100m quay will be able to accommodate vessels up to -18 meters, providing scope for accepting larger vessels in the future.
Also Read: Construction of Côte d'Ivoire Terminal (CIT) in Port Abidjan, Ivory Coast to begin
It will also have a rail yard with two tracks of 300 meters each, and it will offer reefer plugs for up to 1,100 containers. The terminal will have 6 quay gantries, 13 electric park gantries, and 36 electric port tractors for handling containers in terms of equipment.
CIT will enhance the competitiveness of the port of Abidjan, generate 450 direct jobs and thousands of indirect jobs and contribute to the upskilling and training of young Ivorian's in the port professions.
97
If you have a remark or more information on this post please share with us in the comments section below