TheCarPeople.ae will be Dubai's first car seller to accept Doge Coin cryptocurrency as payment for their vehicles. This follows the shock news that Paypal, SpaceX and Tesla founder Elon Musk will no longer accept rival crypto-currency Bitcoin.
Musk made global headlines and sent the crypto-currency markets into a spin, when he tweeted that his electric car manufacturing company would no longer accept Bitcoin for Tesla purchases. Explaining his decision, Musk highlighted the massive power consumption required to generate the new currency, and the negative environmental impact. Bitcoin uses a massive 707KW per hour, per transaction, which is the worst of all the crypto-currencies in use today. Much further down the list is Doge Coin which generates just 0.12KWh. His announcement has drawn attention to the little-known environmental impact of Bitcoin.
Doge Coin, already operating at a more sustainable level, is sometimes seen as a natural successor to Bitcoin and Ethereum. It is touted as one of the main crypto-currencies expected to go mainstream in the future. Furthermore, Bitcoin and Ethereum have both been viewed as an investment rather than a functioning exchangeable currency.
The news that TheCarPeople.aewill be accepting Doge Coin payments is another step towards normalising person to person digital currencies exchange and demonstrating Dubai's commitment to future technologies. Head of Sales at TheCarPeople.ae, Ahmed Darwesh believes that a future focused car seller and a future focused currency are wholly compatible: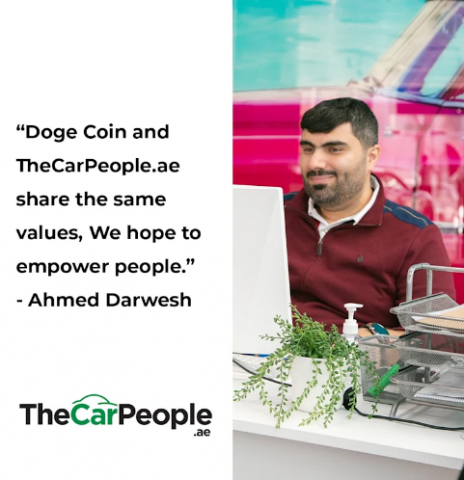 "We feel Doge Coin and TheCarPeople.ae share the same values, namely empowering (and reaching) more people. This is the future we want to build; elitism is a negative word in our future planning and implementation." – Ahmed Darwesh, CPO at TheCarPeople.ae
The UAE Vision 2021 promotes a shift towards a less polluting and smarter economic landscape for the region. Retailers adopting lower impact crypto-currencies such as Doge Coin are aligning themselves with this ambitious vision. TheCarPeople.ae are one of the first retailers to stock the all newelectric Mercedes EQC400 and have a specialist Electric Vehicles (EVs) team assisting buyers in their transition to electric cars.
With Elon Musk promoting the Doge Coins, and a renewed focus on the environmental impact of other crypto-currencies, the moment may have arrived for this currency to go truly mainstream. From summer 2021, TheCarPeople.ae will join the growing list of forward-thinking businesses to formally accept Doge Coin as part of its payment options. As of 2021, Doge coin can now be used to buy artworks, property, high end fashion and now cars.
Media Contact
Company Name: TheCarPeople Dubai
Contact Person: Sarah Bailey
Email: Send Email
Country: United Arab Emirates
Website: https://www.thecarpeople.ae/