It's that time of the year once again for families to cool off with a splash-tastic experience as the weather heats up in the UAE.
READ ALSO: Dubai Miracle Garden, A Must-Visit Tourist Spot in Dubai
In this post, we share the 10 most popular water parks to bring the kids to cool off this summer. If you're ready to take a cooling splash soon, keep on reading until the end of this guide!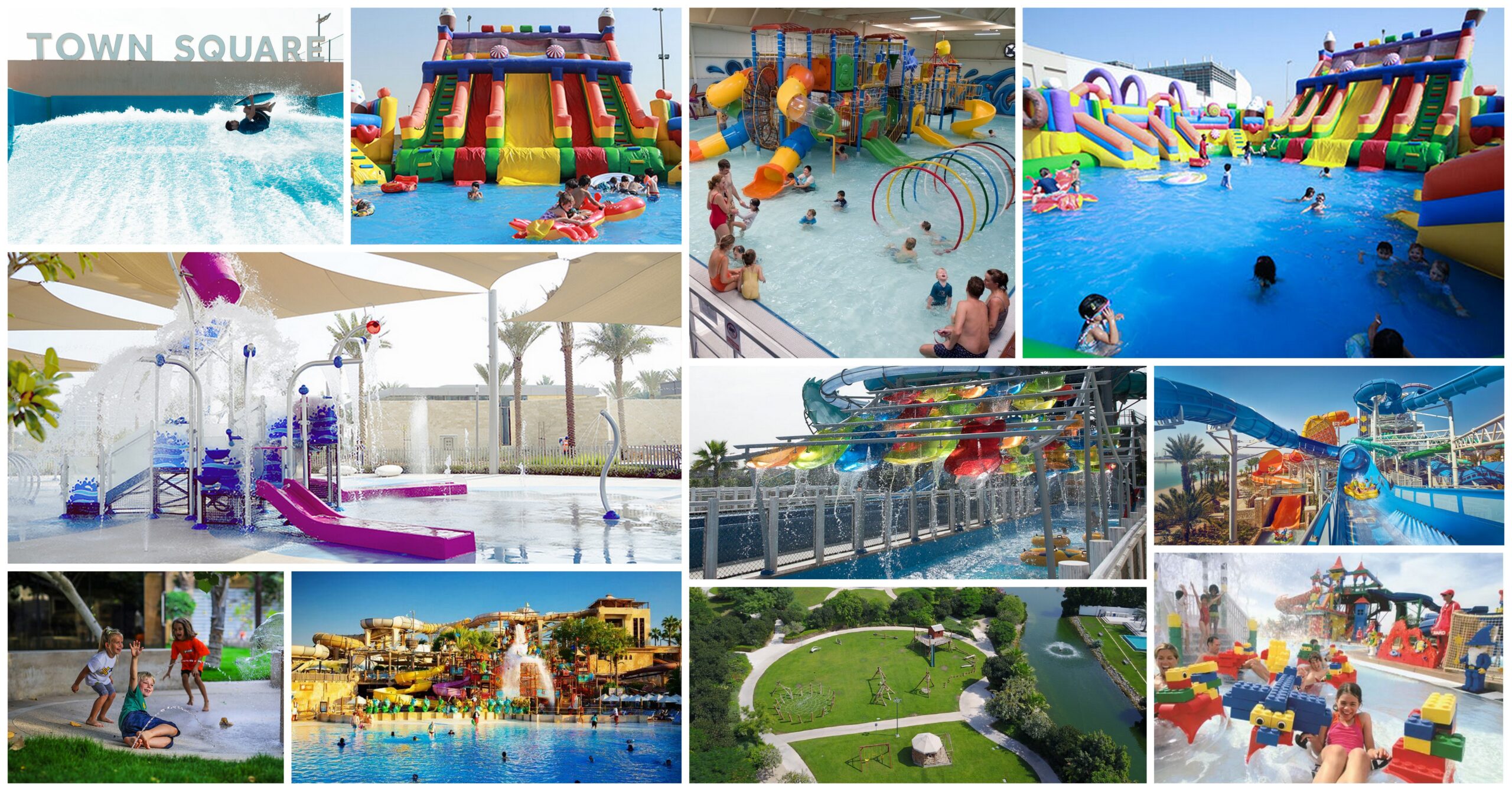 Summer Splash: 10 Amazing Water Parks to Bring the Kids this Summer in Dubai
With its balmy, warm weather, Dubai is the perfect water park destination for families – there's no risk of getting cold in between slides, and its child-friendly environment ensures that kids are still well catered for. However, with so many aquatic experiences to choose from, how do you decide which one to attend? Centered on what makes them better for families with small children, here are some of the top water park choices – all of which follow COVID guidelines on social distancing and sanitization.
1. AQUAVENTURE, ATLANTIS, THE PALM
Aquaventure Dubai is not only the world's largest water park, but it has recently expanded to include the 34-meter-tall Trident Tower, making it one of the world's largest water parks. Two major dedicated kids' areas – Splasher's Cove and Splasher's Lagoon – are both included in the modern expansion of the famous Atlantis, The Palm hotel. These sound like full-fledged kid-friendly destinations, rather than an afterthought, as is often the case. Adults and older children will enjoy 30 record-breaking rides, including the world's longest family water coaster and the region's first cliff jumping experience.
It all adds up to a fantastic family day out, particularly when you add in an imaginative, rubber-ring-free lazy river that floats you through glorious bubbles, sprays, and swirls (think part spa retreat, part white-water rafting).
DETAILS
Fees: AED 269 / person
Website: https://atlantisthepalm.com
Address: Atlantis The Palm – Crescent Rd – Dubai – United Arab Emirates
Google Map:
2. WILD WADI, JUMEIRAH
Wild Wadi, located next to the landmark Burj Al Arab, was Dubai's first water park, opened in 1999. There are plenty of thrills for older kids, as well as mellower options for little ones, in this adventure based on the story of the Arabic folklore character, Juha.
The sheer trap-door drop of the Jumeirah Sceirah – the region's fastest free-fall water slide – should suffice for adrenaline-junkie parents, while Tantrum Alley will include the entire family in a hilariously hair-raising party raft slide. A massive splash park with over 100 water sports, as well as the region's largest wave pool and a lazy river, are available for younger children.
DETAILS:
Fees: AED 69 for UAE residents' day pass when bought online; free for those below 2 yrs. Most of the bigger rides have a minimum height of 1.1m,
Website: https://jumeirah.com/en/hotels-resorts/dubai/wild-wadi/
Address: Wild Wadi, Jumeirah Road, next to Jumeirah Beach Hotel
Google Map:
3. LAGUNA WATER PARK, LA MER
This perfectly packaged, splash-tastic attraction near the cool beachside outdoor shopping mall La Mer, dubbed Dubai's "boutique" water park, is a more manageable size of park for anyone with very small children. While the general vibe is admittedly slightly more grown-up and bijou, it has a dedicated Aqua Play and Splash Pad area (it has an infinity pool after all). However, it is also really kid-friendly, and it offers some great ticket entry deals, such as all-you-can-eat packages, so you won't be disappointed when it comes to lunchtime.
DETAILS
Fees: Ticket entry from Dh99
Website: https://lagunawaterpark.com/
Address: Laguna Waterpark, La Mer, Jumeirah 1
Google Map:
4. SPLASH N PARTY, AL SAFA 2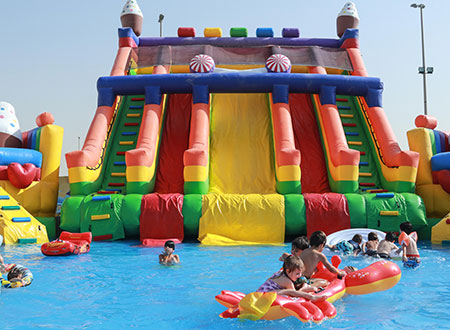 This quirky outdoor water park is based in the grounds of a spacious Jumeirah villa, but this makes it the perfect size for a splash-filled day out with the kids (if your children are old enough to be trusted in water then the adults might even just be able to watch from the café area). While it pales in comparison to the larger parks in terms of size, because the whole place is dedicated to children, there's actually a lot more for them to do. There is a large water play structure complete with slides and tip bucket, as well as a big but gentle splash pad area that will occupy little tots for hours.
There's also a big children's swimming pool, a zip line and bungee trampoline, as well as resident children's entertainers, who put on impressive acrobatics and singing performances at regular intervals.
DETAILS:
Fees: AED 99 for one child and an adult (AED 50 per extra adult), packages available.
Website: https://splashnparty.ae/
Address: Main Branch is in Al Safa 2, but there are others branches at Kite Beach and JBR
Google Map:
5. X PARK JR, KITE BEACH
This lush, natural outdoor playscape isn't entirely devoted to water, but it does have a mini splash pad and rockpools strewn around that will keep kids cool and entertained all day. The park consists of several large wooden climbing structures, an animal area with a petting zoo, mud kitchen, and gardening section, as well as the splash pad and rock pools, all under the shade of a thick canopy of lush trees, all dedicated to nature-based play that encourages kids to extend their limits and take risks. There's also a barn where arts and crafts events are frequently held, as well as a café where parents can watch their children shriek with joy in the very child-friendly splash pad.
DETAILS:
Fees: AED 80 for two hours of play
Website: www.xparkjr.com
Address: Near Kite Beach, Umm Suqeim
Google Map:
6. LEGOLAND WATER PARK
As the temperature increases, bringing kids to outdoor theme parks in the middle of the day becomes less appealing, making now the ideal time to visit Legoland Water Park at Dubai Parks and Resorts. It has all of the same open-ended play and imagination-sparking potential as Lego blocks, but with the added bonus of H2O fun! Kids can design their own boats and test them against water currents, or customize rafts to float down the lazy river, slide down the super-sized slides, or simply zip down exhilarating rides like the family flume Red Rush or the super-fast slide Splash Out.
DETAILS:
Fees: AED 195 online (AED 275 at the gate) for one day access per person, free for under-3s, open 10 am-6 pm (timings subject to change)
Website: https://www.legoland.com/dubai/
Address: Sheikh Zayed Rd – Dubai – United Arab Emirates
Google Map:
7. DUBAI HILLS SPLASH PARK
The vast Dubai Hills Park, which is nestled within the trendy new residential suburb, now houses a fantastic, kid-friendly Splash Park that is also good value for money. It's the ideal size for younger children, and it's a full-fledged aquatic adventure playground, complete with super slides, flumes, spray tunnels, and even a water-spraying roundabout, all of which are protected from the sun by big sail shades. Best of all, it's open and small enough for parents to sit back and relax while their children splash around in the cool water. The park is worth visiting on its own (and there is no admission fee), but during the summer, it's best to stop going during the middle of the day.
DETAILS:
Fees:
Residents under 13: AED 20
Non-residents under 13: AED 30
AED 25 for adult residents and AED 40 for adult non-residents, open from 10am to 10pm daily.
Website: https://www.dubaihillsestate.ae/discover/whats-around/dubai-hills-park/
Address: Dubai Hills Splash Park, Dubai Hills Estate
Google Map:
8. TOWN SQUARE SPLASH PAD, TOWN SQUARE PARK
This adorable little splash pad is located inside a suburban neighborhood and is perfect for babies and young children. Kids can be entertained for hours with a tipping bucket, water rings, and other activities, while parents can relax and lounge around in the park's lush greenery and expansive spaces.
DETAILS:
Fees: AED 15 for residents for half an hour of play, AED 25 for non-residents to have half an hour of play. Open 11am-9pm Saturday to Wednesday; 12pm to 10pm Thursday and Friday, guardian is required for children under the age of 6.
Website: https://nshama.ae/town-square-park/splashpad/
Address: Al Qudra Rd – Dubai – United Arab Emirates
Google Map:
9. SPLASH ISLAND AT BLUE WAVE CLUB, AL QUOZ
If the sun is too hot or the water is too cold, the indoor water park Splash Island at Blue Wave Club in Al Quoz has temperature-controlled water activities in a huge warehouse room. Although Blue Wave is an all-ages swimming club, anyone can visit Splash Island, which has eight slide beams, waterfall buckets, an underwater forest, and more. The echo-y indoor set-up can be very distracting, and it doesn't have the same vibe as an outdoor water park, but it'll suffice for those looking to escape the scorching summer heat.
DETAILS: AED 95 for entry, but lower-priced offers are available on Groupon.ae and Kidzapp.com. Booking in advance is essential, age limit for Water Park is from 2-12 years old.
Website: https://bluewaveclub.ae/
Address: Blue Wave Club, Al Quoz
Google Map:
10. AL BARARI PLAYGROUND, AL BARARI
This sprawling play area in upmarket Al Barari has a massive pirate ship, zip line, sand areas and climbing frames, as well as a water play area where kids can cool off and paddle.
DETAILS:
Fees: AED 11 for non-residents on weekdays and AED 16 for entry on weekends, free for residents, Open to residents from 10 am to 8 pm.
Website: https://albarari.com/play
Address: Between Ashjar & 7th Heaven Dubai – United Arab Emirates
Google Map:
There you have it! If you're planning to do something fun with the kids this summer, make sure to use this guide for your go-to summer escapades this year! Also, make sure to check with the venues' safety protocols so you can proceed accordingly and focus on having fun outdoors this time – everyone deserves it!