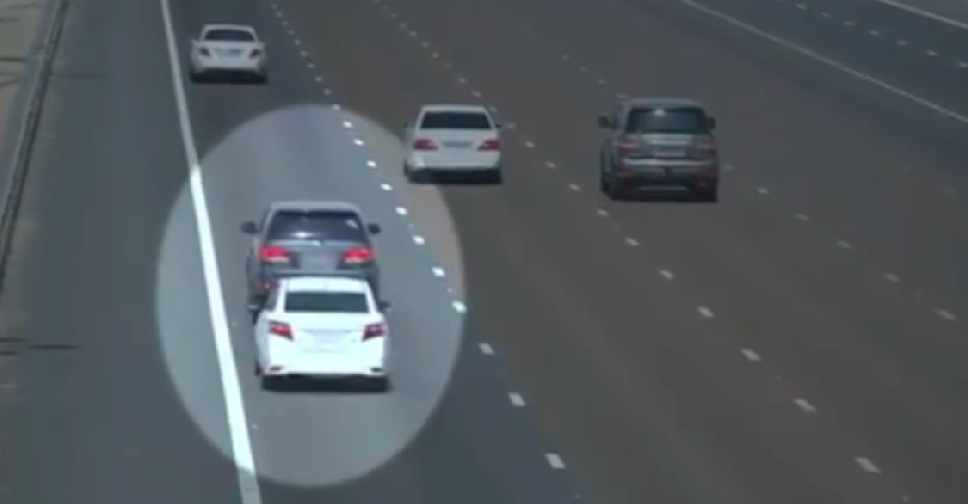 AD Police
Police in the UAE capital have once again reminded motorists that failure to leave a safe distance between vehicles could lead to a AED 400 fine and 4 black points.
Releasing footage of several tailgating incidents on Abu Dhabi roads, the authority added that if the tailgating leads to an accident, then the vehicle will be impounded.
A payment of AED 5,000 will be required to release the vehicle, and failure to do so within three months would lead to its auction.
Failure to give way to cars on the fast lane will also cost a fine of AED 400.
بثت شرطة أبوظبي بالتعاون مع مركز المتابعة والتحكم- أبوظبي وضمن حملة " درب السلامة " ومبادرة "لكم التعليق" فيديو لعدم ترك مسافة أمان كافية خلف المركبات الأمامية. ودعت مديرية المرور والدوريات بقطاع العمليات المركزية السائقين الى ترك مسافة كافية وآمنة بين المركبات لتجنب التوقف المفاجئ دون سابق انذار على الطرق الخارجية واثناء تدفق حركة السير في الطرق الداخلية فاحترام قواعد المرور وأخلاقيات القيادة تجنب مستخدمي الطريق السلوكيات الخاطئة . وأوضحت أن التسبب في حادث بسبب عدم ترك مسافة أمان كافية يطبق عليها القانون رقم 5 لسنة 2020 بشأن حجز المركبات في إمارة أبوظبي وهي القيمة المالية لفك حجز المركبة 5000 درهم على أن يتم حجز المركبة إلى حين دفع القيمة المالية لفك الحجز ولمدة أقصاها 3 أشهر وفي حال عدم سداد المستحقات تحال المركبة للبيع في المزاد العلني، وكذلك تطبيق البند «52» في قواعد وإجراءات الضبط المروري رقم «178» لسنة 2017 على السائقين المخالفين بعدم ترك مسافة أمان كافية خلف المركبات الأمامية، بغرامة تقدر بـ400 درهم و4 نقاط مرورية على قائد المركبة . #درب_السلامة #لكم_التعليق
#عدم_ترك_مسافة_أمان_كافية #أبوظبي_أمن_وسلامة ‏‎#الإمارات #أبوظبي #شرطة_أبوظبي
#أخبار_شرطة_أبوظبي #الإعلام_الأمني ‏‎#في_أبوظبي
‏‎‏‎‏#Abudhabi_safe_and_secure
‏‎‏#InAbuDhabi ‏‎‏‎‏#UAE #AbuDhabi #ADPolice
‏‎‏‎‏#ADPolice_news
‏‎‏‎‏#security_media

Posted by Abu Dhabi Police on Friday, June 25, 2021